USA 2012
Starts June 20, 2013
Directed by: Michael Hoffman
Writing credits: Ethan Coen, Joel Coen
Cast: Cameron Diaz, Stanley Tucci Alan Rickman, Colin Firth, Cloris Leachman
Length: 89 minutes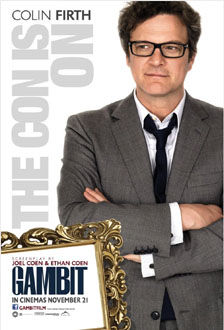 Imagine the fun these thespians must have had stepping into roles hitherto not in their repertoire. Diaz (Puznowski) as a full-blown inexorable Texan, inelegant and impassive Firth (Deanne), Leachman (Grandma Merle) frowzy and tobacco-chewing, Tucci (Zaidenweber) a peacock with an overplayed German accent, and suavely unscrupulous Rickman (Shahbandar), buttocks and all. Sprinkle into the mix quirky, cavorting animal scenes—monkeys as rodeo bronco riders riding dogs, a lionized cat, a tied-down roped lion—and a group of exaggeratedly clichéd, loquacious Japanese business men who beg to be muzzled. This slapstick flick guarantees some laughs.
This is the second film version of a short story by Sidney Carroll. The sophisticated 1960's heist movie by the same name starred Shirley MacLaine and Michael Caine. This Gambit has the Coen brothers' touch: zany characters with zanier names, simpleness vs. savoir-faire, new characters and over-the-top comedic incidents. While some scenes are a tad too long, it teeters toward silliness a couple time, it is still fun to watch! (Marinell H.)

½
This crime comedy centers on a vengeful art curator who decides to con his arrogant boss into buying a fake Monet painting. Harry Dean (Colin Firth) has had enough of his employer's abuses. Lord Shabandar (Alan Rickamn) a media tycoon who actually likes to roar like a lion, never misses an opportunity to let his art curator know how little he thinks of him. Also in a tight spot financially, the formerly correct and uptight Harry partners up with his friend Major Wingate (Tom Courtenay) who is a skilled art forger. With the help of the Texan rodeo queen PJ Puznowski (Cameron Diaz), they want to con the avid art collector Lord Shabandar into buying a fake Monet painting pretending that it has been in her family's possession for years unnoticed. Reluctantly, Lord Shabandar takes the bait and invites PJ to London. In the meantime, Lord Shabandar decides to employ a new art curator (Stanley Tuci) endangering the whole plan.
This movie really wanted to be funny, but it just didn't do the job. It contained some elements of slapstick, like Harry Dean losing his pants along the plot or Lord Shabandar being an active nudist. But I hate to say it: to me the comical elements were almost vulgar. The plot was quite shallow and hadn't it been for Alan Rickman and Colin Firth, this movie would only have gotten two stars. I really expected more.