UK | Cuba 2012
Starts August 29, 2013

Directed by: John Roberts             
Writing credits: Eirene Houston
Cast: Eva Birthistle, Charity Wakefield, Phyllis Logan, Bryan Dick, Christopher Simpson, Carlos Acosta, Manuel de Blas
Length: 102 minutes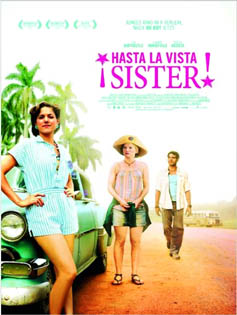 During the Sixties and Seventies almost every student in Britain supported the Cuban Revolution. Most were content to pin the famous Che Guevera poster on the wall and leave it at that, but Rosa and Ailie's parents went much further. They travelled to Cuba each summer to help the revolutionaries in their attempts at restoring the country's fortunes.

British director John Roberts' movie made the official selection at Edinburgh's International Film Festival in 2012.His movie begins not in Cuba, not even in Edinburgh, but in Scotland's other major city, Glasgow.

Rosa (Birthistle ) and Ailie (Wakefield) attend their father's funeral and are upset when they hear that their stepmother intends to have his ashes incorporated into a glass golfing trophy. Rosa steals the ashes, packs them into a Cuban cigar box and plans to take them back to his spiritual home. She takes along her kilt-wearing friend Conway (Dick) for company but is surprised to meet Ailie at the airport. Ailie feels in need of a holiday and Cuba is as good a place as any other to have one. Besides, she can help Rosa scatter the ashes during Cuba's national holiday, the beautifully named Day of the Flowers.

This is a very funny and most enjoyable movie and the excitement begins as soon as the trio arrive in Havana. First they are helped by Ernesto, with the soulful eyes (Simpson) when they miss their bus at the airport. Later they are truly helped by Tomas (Acosta) who always manages to sort out the many problems which occur throughout their visit. The story has many twists and turns and all the coincidences require the audience to suspend belief, but it is none the worse for that. It is disappointing, however, that Acosta, who is a world-renowned ballet dancer, doesn't show his dancing skills to greater advantage, especially as Cuba's happy music and lively dancing is an important backdrop to the story.
As the story progresses, the girls discover a dark secret which their parents kept hidden from them. This shakes the idolisation which Rosa in particular felt for her father. She discovers a dark side to Cuba too and realises that the affinity she felt for the country was a figment of her imagination. Nevertheless, she and Ailie continue with their plan to scatter their father's ashes on The Day of the Flowers. Is there a happy ending? Do the girls begin to understand themselves and their parents better? Is there any love interest? It's well worth going to see this movie to find out for yourself. (Jenny M.)


Second Opinion by Marinell H.

 ½     

This movie is pure fun. At its center are two Scottish sisters, as different as night and day, whose impromptu quest inadvertently unites them. At their dad's wake they learn step-mom Brenda's (Logan) plan for his ashes. Rosa (Birthistle), activist extraordinaire with friend Conway (Dick) in tow, and fashion aficionado Ailie (Wakefield) fly to Cuba to ensure that their parents are—rightfully—interred together. After missing their bus at the airport, thanks to Ailie, a handsome wily local (Simpson) arranges transportation. When that goes kaput, Ailie succeeds getting them onboard a travel company's minivan. The tourists and their guide Tomas (Cuban ballet dancer and choreographer Acosta) good-naturedly join the adventure. With each tussle the sisters' survive, the complexity of their parents' relationship to Cuba is apparent, and, instills fresh insights. On the festive "Day of the Flowers", Ignatio (de Blas) finally provides the puzzle's missing piece.

John Roberts manages a wonderful balance of humor–suspense–romance–brevity, lightly infused with politics, while Vernon Layton's camera catches the contrasting splendor of Glasgow, Scotland and Cuba. David Freeman, Alex Mackie and John Wilson ably edit, Celestia Fox assembles a great cast, and Stephen Warbeck's original music is enhanced by a plethora of Cuban tunes. Although there are some continuity issues, missed by most I would wager, the film pulsates with subtle overtones, quick wit and a tempo that guarantees to please.