½
France 2013
Starts September 19, 2013
Directed by
: Marion Vernoux
Writing credits
: Marion Veroux, after a book by Fanny Chesnel
Cast
: Fanny Ardant, Laurent Lafitte, Patrick Chesnais
Length
: 91 minutes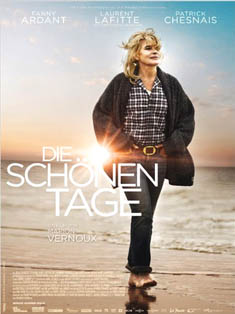 60-year old Caroline (Ardant) has been given a trial membership to an upscale and hip senior citizen club. With this gift her daughters are trying to help the recently retired dentist to find direction and a way out of boredom. Rather unconvinced and listless she attends a few classes (pottery, theater) until she meets 39-year old Julien (Lafitte), the computer course teacher and "Club-Casanova". Behind the back of her perfectly loveable husband Pierre (Chesnais) and without regrets, Caroline starts an affair with Julien.
Thankfully there is no preoccupation with the "older woman / younger man-theme"; the affair appears natural, unapologetic and fleeting in a very French (film)-sense.
Die Schönen Tage
is a showcase for the beautiful, radiant and elegant Fanny Ardant, who is support by a very watchable cast. But that's basically 'it'; once all this 'wears off', there isn't enough of a story or thought that stays with me. (
Carola A.
)