Details

Last Updated on Saturday, 29 March 2014 12:56

USA 2013
Starts March 27, 2014

Directed by: Spike Jonze          
Writing credits: Spike Jonze
Cast: Joaquin Phoenix, Chris Pratt, Rooney Mara, Scarlett Johansson, Amy Adams, Matt Letscher
Length: 126 minutes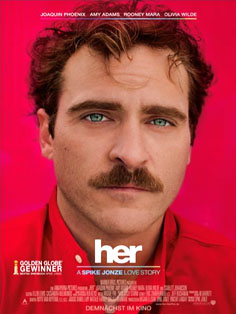 Take our technology-pervasive society and multiply it 1000 times: not quite Soylent Green (1973) or Blade Runner (1982), but... Now imagine meeting someone that is ideally suited to you: funny, smart, sensitive, a confidant and friend. Your relationship develops: walks, shopping, family get-togethers, double dates, and playing computer games. Sound nice? Next envisage this perfect partner is the size of a cell phone with a voice. Welcome to the future.

Spike Jonze directs (Being John Malkovich, Adaptation) and writes this sophisticated scenario about an intensely lonely man struggling through a devastating divorce who writes heartfelt letters for others—his boss (Pratt) marvels at his sensitivity—yet is bereft of close ties. Purchasing a new OSI: "It's not just an operating system, it's a consciousness", his relationship with Samantha (Johansson, voice) begins. Significantly, Phoenix finely balances Theodore's complicated personality: amiable, insightful, insecure and aloof, with strong performances from fellow thespians. Theodore's daily landscape (K.K. Barrett, production design) appears as appetizing as a skip through a hellhole. Hoyte Van Hoytema's cinematography, and Jeff Buchanan and Eric Zumbrunnen's editing—plus computer magic—seamlessly match Los Angeles, California and Shanghai, China's skylines. Jonze's imaginative forecast is frighteningly astute, sustaining feelings of a disengaged, alien social order. Artificial intelligences transcendence is uncontrollable, and equally capable of dishing out heartache. Not a traipse through paradise, melancholic Her is worth experiencing.
(Marinell H.)
second opinion by Katja T.





Soon we will be looking back to the good old times where a simple "cogito ergo sum" was all we needed to set ourselves apart as humans. In Her, this line gets blurred by the fact that an operating system (as in a computer software) is able to think, feel and evolve through its own experience. It literally turns into the "person" you need. Theodore Twombly (Phoenix) is a lonely guy who is in the final stages of a divorce. Being lost without his wife, he jumps at the opportunity to have the perfect personal assistant. Samantha (Johansson's voice) as it has named itself, is funny, intelligent, and makes him feel alive again until the inevitable thing happens: Theodore and Samantha fall in love.

Her does not just offer beautiful pictures and a great cast. It is also the smartest film I have seen recently, since it works on so many levels. Samantha is basically the logical culmination of all imaginable internet-services. While Facebook & Co. still cater to substitute desires like consumerism, this program goes right to the heart of the matter. It has the insight of an über-counselor (it only needs to know about your relationship to your parents first…) and then makes you feel loved unconditionally. In order to do so, the program has basically come to a state of enlightenment, a state of pure consciousness. No nasty egos. No mommy issues, since "the past is just a story we tell ourselves." Definitely a superior state by definition of many spiritual paths. But how human can perfect be?

I love the way this film plays with the modern desire of spiritual perfection versus "neediness" and also combines it with a slight science-fiction element in the form of sentient machines (without the Matrix-style doom, I am please to say). It also combines melancholia and loneliness with hope that can be found in our core if we let ourselves be truly human.