Details

Last Updated on Tuesday, 22 April 2014 10:28

 ½
USA | France 2014
Starts March 13, 2014

Directed by: Jaume Collet-Serra     
Writing credits: John W. Richardson & Christopher Roach and Ryan Engle
Cast: Julianne Moore, Michelle Dockery, Liam Neeson, Anson Mount, Lupita Nyong'o, Corey Stoll, Scoot McNairy, Linus Roache, Nate Parker, Omar Metwally, Corey Hawkins, Jason Butler Harner
Length: 106 minutes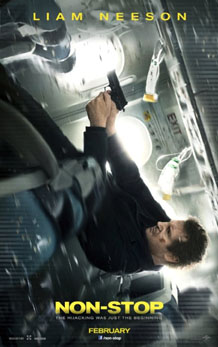 The basic story is familiar but the surprise developments in the confined space of a non-stop transatlantic flight to London keep us in our seats and hanging on. From his arrival at the airport through check-in and waiting to board, we are aware Bill (Neeson) is an unhappy, troubled man. Over the Atlantic the Federal Air Marshal (FAM) receives the first of many warning text-messages: In twenty minutes someone onboard dies unless $150 million is transferred into a specified offshore account. Fellow FAMs Jack (Mount) scoffs; conversely Capt. David (Roache) contacts TSA (Transportation Security Administration). As the situation escalates Bill realizes the terrorist is setting him up. Flight Attendant Nancy (Dockery), and his seatmate Jen (Moore) seem to be his only allies. Following a confrontation, a core group form: computer wizard Zach (Parker), schoolteacher Bowen (McNairy), the good Dr. Fahim (Metwally), the NY cop (Stoll). The big question is, who is the culprit? With the co-pilot (Harner) locked in the cockpit, and the minutes ticking Bill pulls out all the stops to save the 150 passengers.

Director Jaume Collet-Serra keeps the suspense peaking by adding visual hints throughout via Flavio Martínez Labiano's cinematography. John Ottman's music leads without being ubiquitous; Jim May's editing keeps the pieces from unraveling too soon. Intense and well acted, the whodunit component assures that this thriller provides good entertainment value. (Marinell H.)

U.S. Air Marshall, Bill Marks (Neeson), is on duty aboard a transatlantic flight from New York City to London. He's not in good shape to handle a situation. A personal crisis torments him day and night. Alcohol is his go-to beverage for comfort; hard liquor is his best friend. His colleagues have reason for concern. His boss monitors his performance. Marks welcomes an uneventful flight to his next destination and a few hours of peaceful shuteye.

Shortly after take-off the U.S. Air Marshall receives a text from an anonymous caller. Marks, puzzled as to how the caller knows his secured number, sits up and takes notice. The message advises Marks to deposit $150 million into an off-shore account. And, adds that every twenty minutes someone on the plane dies until the money is safely wired.

Marks sets his watch. The countdown begins. Death for someone is on the line. Knowing his job is in jeopardy, Marks fights to keep his faculties alert for proper assessment of the flight situation. His body and mind suffer from the exhaustion of trying to escape the demons that chase him and from the drink that controls him. Shaken to his core. Marks, an expert in his field, relies on his professional training that has prepared him well in spite of being taken off guard. His adrenaline begins to flow. The intoxication is dissipating. Marks' professional instincts take charge and he's on his game to find the intruder.

Marks notifies Flight Captain, David McMillan (Roache) of the threatening text. The captain will not negotiate with terrorists. According to air traffic guidelines, Captain McMillan orders Marks to determine if the flight has a situation and to act accordingly.

Marks quickly recruits the only people he deems trustworthy to help—his flight neighbor, Jen Summers (Moore); as well as long-time friend/flight attendant, Nancy (Dockery). Together they quickly look for visual signs of any passenger who might be suspect. Careful not to cause undue panic, they search the flight manifest for persons with unusual profiles. Time is not on their side. Twenty minutes into the transatlantic flight Marks' colleague is the first passenger dead.

The mysterious death is the beginning of a cyclical cat-and-mouse game that has the film audience intensely following Marks' every move. A true cliffhanger for those addicts who enjoy terror and clues given to figure out who is suspect and who is not. The adrenaline rush in the sky from filmmaker, Jaume Collet-Serra with Non-Stop, is a narrative on ecstasy. Captivating the silver screen the storyline needs no help from the likes of "Lucy in the sky with diamonds."