Details

Last Updated on Wednesday, 26 February 2014 10:21

USA 2013
Starts March 6, 2014

Directed by: John Lee Hancock
Writing credits: Kelly Marcel and Sue Smith
Cast: Tom Hanks, Colin Farrell, Ruth Wilson, Emma Thompson, Paul Giamatti, Jason Schwartzman, Bradley Whitford, Ronan Vibert, Annie Rose Buckley, B.J. Novak, Rachel Griffiths, Kathy Baker
Length: 125 minutes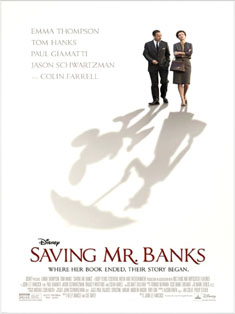 Saving Mr. Banks saves us from forgetting the wonderment that accompanies a one-of-a-kind homey family film. Thanks to the authenticity that Tom Hanks as Walt Disney and Emma Thompson as Mrs. P.L. Travers breathe into the characters, we are able to relive this fascinating account about an unlikely relationship. Maryborough, Queensland, Australia, 1908: the childhood that defines the woman—essential to understanding Travers is to know her family and background. A young Helen Lyndon Goff—Ginty (Buckley) and papa, her hero but the bane of his family, share a fantastico fantasy world. Colin Farrell poignantly portrays Robert Travers Goff: besieged by inner demons, adored by his three girls, loved by his anxious wife (Wilson), and held accountable by her sister (Griffiths).

Cut to the present: London, England, April 21, 1961: Ginty all grown up and living under the pen name P.L. Travers. Pamela's agent (Vibert) lays out the hard facts—"(her) money's gone." He implores: Go to Los Angeles, meet with Walt Disney; consider it an exploratory trip. For twenty years Disney's petitioned to buy the screen rights to her book. Acquiescing, Pamela lays down hard stipulations: no animation, she has script approval and final say. Thus a journey destined to change her life begins.

Arriving in sunny California, her affable chauffeur (Giamatti) first feels Pamela's prickly mettle. Next, the creative team: the Sherman brothers – music (Schwartzman) and lyrics (Novak) and the screenwriter (Whitford). Disney is not spared either—"I won't have it turned into one of your silly cartoons." Impervious to her obstinate demands he rejoins: "I love Mary Poppins, and you've got to share her with me." Somewhat taken aback, Pam frustratingly stays the course. When Disney's secretary (Baker) advises, "Give it up", he confesses, "That woman's a conundrum." Ultimately though Disney works out the key to the riddle.

This untold backstory in the hands of Director John Lee Hancock is gorgeously attentive to details and emphasizes Disney's inclusive approach to life. Filmed completely in and around Los Angeles, California—save for one day in London—it is only the third movie to be shot at Disneyland (remarkably unchanged), California in its 58-year history; the second film was Tom Hanks' directing debut That Thing You Do! (1996). The TCL Chinese Theatre (formerly Grauman's) in Hollywood is in fact where Mary Poppins premiered in 1964. Producer Alison Owen showed Kelly Marcel and Sue Smith's script first to the genuine songwriter Richard Sherman—he worked directly with Disney until his 1966 death; Sherman scrutinized it and offered invaluable information to round-out dialogues. That "stamp of approval" was imperative for the Australian–British team. "This is a very honest picture; it tells it the way it was," Sherman observes.

Disney Studio acquired the script and took the lead in receiving approval from the Disney family. Disney Studio then sifted through 500 pages of documents from the development phase of Mary Poppins, as well as offering its extraordinary Archives Department further helping Production Designer Michael Corenblith and longtime collaborators Set Decorator Susan Benjamin, Art Director Lauren E. Polizzi and Costume Designer Daniel Orlandi, et al in replicating genuineness. The Walt Disney Family Museum that opened in 2009 in Presidio, San Francisco was an archive bonanza for the filmmakers as well. Corenblith got a firsthand look at both Maryborough and Allora in Australia; Travers house has been preserved and photographs were also available.

Schwartzman and Novak are the same ages as the genuine songwriting Sherman brothers were. Richard Sherman came onboard as a consultant sharing anecdotes only he would know. While filming in the Disney rehearsal studios they had access to Richard was on the set daily. Both two-time Oscar® winners, Emma Thompson wore a wig to replicate Travers' permed hairstyle and Hanks grew a Disneyesque mustache; they studied their characters mannerisms and personalities from movies, audiotapes and books. Hanks was amazed, "Walt was hands on every step of the way, yet he always used the word 'we.' He never said, 'I had an idea' or 'I did it this way.' I thought that was great." About her curmudgeonly character Thompson said, "She was a wonderful case study, requiring so many different shades. She's one of the most complicated people I've ever encountered."    
 
Thomas Newman's music suits the film's many moods; John Schwartzman's cinematography (using real celluloid as opposed to digital) and Mark Livolsi's editing guarantee we smoothly switch time zones, continents and eras. During the end credits as we see authentic photographs of Disney, Travers, et al we hear the bona fide P.L. speaking. With 13 nominations Mary Poppins won five Oscars® at the 1965 Academy Awards. I laughed, cried, caught my breath, reflected, and was truly sorry when the film ended. Saving Mr. Banks is a rare glimpse of preserved history, imparting an important message for audiences to take away. (Marinell H.)
Second Opinion by Thelma F.

 ½
Walt Disney (Hanks) promised his daughters to film their favorite children's book Mary Poppins and he has been after Pamela Travers (Thompson), the elegant and standoffish author of the book, for almost 20 years to get her to agree to that. She has held off so far because she wants Mary Poppins to be taken seriously and not to be changed by Hollywood. But Pamela is now having financial problems so she finally gives in and flies to California. She suffers from 1) culture shock and 2) from still not feeling right about handing over Mary Poppins. The only slightly acceptable part of her stay is her warm-hearted chauffeur (Giamatti) who manages to put up with her arrogance.
 
The film progresses into the present at the Walt Disney studios and in flashbacks of Pamela's childhood in Australia where she grew up in a nomadic family with a loving but irresponsible father (Farrell) who ultimately failed her. However hard the scriptwriters/songwriters try, they cannot get Pamela to agree on anything. She hates musicals and keeps rejecting their efforts. She projects her family into the musical and feels the writers are letting her down.  After a miserable start, Walt decides to take matters in his own hands and coerces Pamela into a tour of Disneyland. He wants her to try to see life through the eyes of a child and, sure enough, the magic of Disneyland softens her. She becomes open to ideas. She just cannot deal with the portrayal of Mr. Banks (her father) in the musical and heads back to London without signing the rights to the film. Walt follows her to London, explains about his equally hard childhood, gets her sympathy and teaches her that one gets tired of remembering the past as it was. In the end, Pamela gives him Mary Poppins finally realizing that only his movie can redeem her father.
 
This is a nice film but it takes Emma Thompson's excellent acting to carry it off.