Details

Last Updated on Thursday, 18 September 2014 16:34

Germany | UK 2013
Starts September 11, 2012

Directed by: Anton Corbijn
Writing credits: Andrew Bovell, John le Carré novel
Cast: Grigoriy Dobrygin, Philip Seymour Hoffman, Homayoun Ershadi, Mehdi Dehbi, Willem Dafoe, Nina Hoss, Vicky Krieps, Rachel McAdams
Length: 122 minutes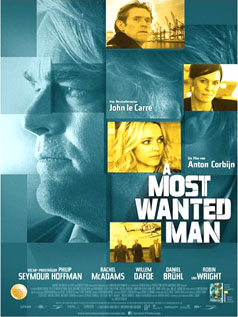 Two production companies, Roadside Attractions and The Ink Factory, give kudos to the creative David Cornwell family, David, and his sons, Stephen and Simon, in honoring their latest film project, A Most Wanted Man.  

Writing under the pen name of John le Carré, David Cornwell creates a most unusual political thriller. Stephen and Simon Cornwell, producers with The Ink Factory since 2010, are proud that their father's novel A Most Wanted Man comes to fruition on the silver screen. The brothers never cease to be amazed at the detail le Carré eloquently uses in his descriptive storytelling depicting historical fiction and actual places. A style developed to captivate his audience worldwide, one of le Carré's calling cards.

Film director, Anton Corbijn and screenwriter, Andrew Bovell both take a fair amount of liberties in delivering le Carré's novel as a big screen narrative. But, they never part from embracing the exact location where his novel is set: Hamburg, Germany, a beautiful romantic seaport, historic and vibrant. Radiant and seasoned with cultured wealth, prosperity and life-giving hope.

Corbijn's director of cinematography, Denoit Delhommme, alone creates a visual love letter to Hamburg because A Most Wanted Man is a story for Hamburg itself. For centuries, Hamburg's port has been a refuge ...a safe haven... a transitional city keen to embrace the foreigner, the immigrant, the refugee, no doubt a port with voices longing to be heard. Endless stories from unimaginable life experiences. A welcoming harbor is Hamburg's age-old calling.

September 11, 2001, Hamburg's open-arms of hospitality to foreigners begin to close. Terrorist cells slipped under the radar from Hamburg's big-brother watchful eye to create a moral panic. In reaction, a growing distrust of strangers sets the tone for le Carré's novel.

Several voices of Hamburg's Islamic community did speak out to the world on 9/11. An extreme Jihadist cell group sends the world a message. Everyone is forced to listen to his voice and, among other objectives, to observe a disregard for human life. Three locations on American soil are the terrorist's target spots, executed with precision. An incomprehensible visual destruction of magnitude casualties. A message unforgettable! Given to America and to all those who partner with her.

Screenwriter Andrew Novell takes Le Carré's complicated explanation of the inner workings within the world's most noted terrorist agencies and eloquently transforms A Most Wanted Man for the average film viewing audience. A riveting story about fear. Questions that grapple with who can be trusted and whom should one be afraid of. There is never a dull moment with creative team, Novell and le Carré. Nor should it ever be!
        
Synopsis:
The French Interpol working in Hamburg, Germany, is on high-alert since the 9/11 terrorists attacks in New York City. The world will never forget the violent acts of terrorism on innocent victims. Collaborating with several government anti-terrorist agencies scanning the globe for suspicious activity is common place. Protecting the innocent is an important role but catching any culprit is the goal.

The terrorists' cells in Hamburg prior to 9/11 were highly successful in concealing their covert planning. The fact that the cells were under the radar of the German government anti-terrorist agencies is not only shocking but embarrassing. The German pride for tolerance to foreigners was hit hard. And, never again will Germany allow itself to be taken for a fool. Over a decade later, Hamburg is on high alert. Interpol puts many of the Middle Eastern males under suspicion traveling in and out of Germany. An alert comes through the government agencies of a possible money-laundering scheme for arms, drugs or bomb equipment.

A 26-year-old known militant jihadist escapee from Russia, Issa Karpov (Dobrygin) enters Germany. Traveling only with a backpack he is under surveillance while maneuvering within the Hamburg Islamic community. Issa seeks to find banker, Thomas Brue (William Dafoe) to lay stake to an inheritance from his father worth tens of millions of euros.

Issa befriends a Turkish woman Leyla (Derya Alabora) and her son Melik (Tamer Yigit) who introduce him to Annabel Richter (Rachel McAdams), a lawyer working for the human rights organization Sanctuary North. His story of torture by Russian security authorities moves her. She agrees to help him find the banker.

Working under the radar for the German intelligence service is a secretive US team led by Gunter Bachmann (Seymour Hoffman), the first team to get Issa on surveillance when he surfaces in Hamburg, Bachmann stays ahead of his counterparts due to his typical "game of clue-like" tactics--asking lots of questions and trailing the facts.

Matching Bachmann's disheveled appearance, his work ethic is laid-back, slow but deliberate, to catch his criminal. Pressured to get to the bottom of the identity of a most-wanted man and his intentions, Bachmann is given 72 hours to figure out what has the Interpol, German FBI and the US government up in arms over a lone, severely tortured, young immigrant.

Bachmann's arch rival in Hamburg, Dieter Mohr (Rainer Bock) wants a premature arrest of Issa for immediate interrogation. Bachmann and long-time colleague, Martha Sullivan (Robin Wright) both suspect deeper connections are at stake. Sullivan's influence over Mohr can allow for a stall in the arrest but the cost of an alliance with her puts Bachmann ill-at-ease.

The underlying mistrust from the other government agencies of Bachmann's motives adds intrigue to his tactical maneuvers to get Issa's story right--an innocent person severely mishandled or an extremist bent on destruction. It's complicated! The mysterious tale of the identity of A Most Wanted Man is a heart-stopping thriller. A mind-teaser addressing politics, rivalry, and love where reality-bites in our human world. (Karen P.)
Second Opinion by Marinell H.



A most wanted man is not necessarily the most wanted man, merely the means to an end source, as proven in this psychological thriller. Günther (Seymour Hoffman) heads up a small, skillful team squeezed by both the German police – Mohr (Rainer Bock) in Hamburg, and Sullivan (Robin Wright) sent by the American Embassy in Berlin. Their subterfuge supports an agenda contraire to Günther's. There are some other factions as well, all after the same object. But it is Günther—clever, persistent, and astute—who lays the best trap. When sprung, which his team orchestrates with clockwork adeptness, the opponent throws a below-the-belt punch.

The production team infuses credible panache into John le Carré's novel to hold us captive. Dialogue driven, the glitches in Andrew Bovell's screenplay go almost unnoticed, which Claire Simpson's editing likewise fails to camouflage. Herbert Grönemeyer's straightforward music intriguingly stimulates, and Benoît Delhomme's camera collars Hamburg's contrasts: the nitty-gritty grimy areas seldom seen, and its sanitized and swanky neighborhoods. Even with the questionable German accent he adopts, Seymour Hoffman's consummate portrayal of a man preoccupied with proving, disproving, and equalizing a past deed elevates his fellow thespians. With so much going for it, director Anton Corbijn might have paid more attention to tempo, and whether audiences would grasp the big picture. Still, the socio-political, -economic, and -cultural innuendos in this film make for an absorbing watch.