Details

Last Updated on Tuesday, 19 August 2014 11:32

USA 2014
Starts August 28, 2014

Directed by: James Gunn        
Writing credits: James Gunn, Nicole Perlman; Dan Abnett, Andy Lanning comic book
Cast: Chris Pratt, Zoe Saldana, Lee Pace, Glenn Close, Karen Gillan, Benicio Del Toro, Sean Gunn
Length: 121 minutes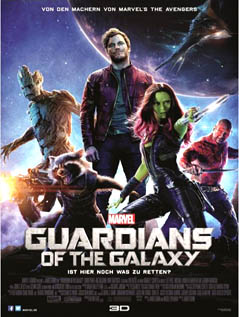 Marvel is strengthening its synonymy for lustig comic-action films, superheroes, and epic adventures. This sci-fi story is strong, the action intense, the comedic value well proportioned. In balance with a robust cast—infusing the film with the fun they seem to be having, creatively imaginative costumes and sets, and special effects that imbue rather than distract, climb aboard for an exhilarating journey into space.

Peter Quill (Pratt) is a brash rebel Ravager, under the wing of Yondu (Michael Rooker), who manages to get hold of an orb on Morag ahead of Korath (Djimon Hounsou), an ally of Kree's villain. Furious, Ronan (Pace) then sends the lethal Gamora (Saldana) to retrieve the orb; she catches up with Quill on Xandar, the Empire's capital. Their ensuing no-holds-barred fight is thrown off-kilter by two unlikely bounty hunters, Rocket (Bradley Cooper voice) and Groot (Vin Diesel voice). Corpsman Dey (John C. Reilly) of the Novo Corps military apprehends the lot: justice is swift and they are packed off to a notoriously secure, perilous prison; to survive, they unite. Making the unsolicited acquaintance of Drax the Destroyer (Dave Bautista), when all hell breaks out, he pitches in. As the enigma of the orb becomes evident to the different factions, and Ronan's sinister intents that threaten the universe surface, the race is on to save the Galaxy. Who will prevail? The motley bunch of misfits, or the maniacal, mighty ogre, or the crafty thieving bandit, or the cosmos' proclaimed protectors?

The answer is well worth your finding out. A zany, dark, humanistic quality pulls us in, has us laughing and, sitting forward in our seats. Kudos to director Gunn, the original comics' creators and the contemporary writers, Ben Davis' Cinematography, Richard Roberts' Set Decoration, Ray Chan and team's Art Direction, Charles Wood's Production Design, the Makeup Department and Alexandra Byrne's Costume Design, and the countless number of global special and visual effects, and animator artists involved. Tyler Bates' choice Music is augmented by great tunes from the 1960s through 1980s. Alluring, entertaining, good fun: you will be pleased to know no raccoons or trees were harmed while filming. (Marinell H.)
Second Opinion by Rose F.



As one of the most hyped films of the year and a release from the wildly successful Marvel Studios, Guardians of the Galaxy does not disappoint. It is adroit and humorous and extremely successful at being a superior action film. Despite being based on a superhero team in Marvel Comics which most people haven't heard of, there is no doubt in this being an extreme blockbuster success due to the draw Marvel has had over the past few years and also the positive reviews it is currently receiving. However, despite being extremely entertaining, it continues to fail on numerous levels and it is disappointing that this is being entirely ignored by the international press.

First, let's start with the good things. Guardians of the Galaxy follows a ragtag group of criminals as they try to stop a radical terrorist from destroying the galaxy with the use of a powerful ancient object. As far as action movie plots go, this one is not very different from many others (Man of Steel [2013] and The Avengers [2012] most notably.) Where it really succeeds is that it is not a dramatic film with comedy like most Superhero films previously made, this one is quite obviously a comedy from the get-go and that leads to it having a very fresh feeling. It is really the comedy that drives this film and in that way it was very successful. Chris Platt is particularly affable as the lead Peter Quill and Bradley Cooper's voice-acting was very intuitive and was virtually unrecognizable. The cast as a whole did a great job of making even the most two-dimensional characters sympathetic. Also, the CGI rendered in 3D was beautiful, but that is now considered expected in Marvel Studios films. The overall quality of the production, the acting and the on-point dialogues make Guardians of the Galaxy feel like something refreshing and new. Yet when the film is broken down a little more, it becomes clear there are some major flaws.



Perhaps the most obvious flaw is the general lack of (comprehensible) character development. Maybe some of this was lost in translation between adapting the comic books to film, but other than Peter Quill and Gamora (where there is a little insight into their childhoods) we learn practically nothing about any of the characters. Not even the main villain, Ronan (Pace), gets any backstory beyond saying he has to destroy his enemies because they killed his father. The total amount of time spent of explaining Ronan's actions last about a minute and to be honest they don't make any real sense, but then maybe we aren't supposed to think too hard about the motivations of radical terrorists. This lack of development of his character weakens the whole plot of the movie because it is just generally known that he is a bad guy and will lose at the end. It destroys any chance for a different sort of ambiguity or tension in the climax and leads to a rather cookie-cutter ending that anyone could see coming. In addition to the lack of character development, Guardians of the Galaxy doesn't make any positive steps towards including more diverse roles for women. The whole film has four women who have any spoken parts and none of them talk to each other of anything other than a "man." Those four characters all fit into a pretty stereotypical set of roles too. There is the dying mother, the cool-headed politician, the romantic interest/damsel in distress (who is always a side-kick to the main male protagonist) and the side-kick villainess (who is never of equal power to the main male villain.) It is unfortunate that while the film may seem fresh and interesting, it still falls back on the same-old overused tropes and plots. Thinking back on it, the storyline and use of female characters is very similar to just about every other action film out there.

Despite these critiques, it is impossible not to recommend the film as an enjoyable and fun film. It's just unfortunate that a film that has been so lauded for being something new still fails in the same areas as all other films in its genre. Someday we might get the intelligent and well-rounded action film we deserved, but as of right now, Guardians of the Galaxy is the best there is.