Details

Last Updated on Monday, 04 August 2014 15:56

UK | Ireland | France 2014
Starts August 14, 2014

Directed by: Ken Loach        
Writing credits: Paul Laverty, Donal O'Kelly play
Cast: Barry Ward, Simone Kirby, Jim Norton, Brían F. O'Byrne, Aileen Henry, Aisling Franciosi, Mikel Murfi, Shane O'Brien, Seamus Hughes, Sorcha Fox, Karl Geary, Francis Magee
Length: 109 minutes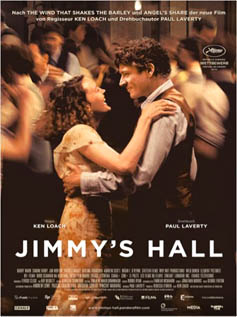 Ach, begorrah, its Jimmy Gralton, so it is, come back from America with newfangled ideas to get us all riled up.

And so he had. After spending ten years in New York City during the Roaring Twenties which culminated in The Depression, Jimmy (Ward) returns home to a tiny, rural village in county Leitrim, Ireland. He is welcomed back by his mother Alice (Henry) and starts to run the family farm after his brother's death. His old friends Oonagh (Kirby) Tommy (Murphy) and Mossie (Magee) are delighted to see him too and encourage him to continue his old ways.

Before leaving for America Jimmy had built a community centre on his parent's land where the local people could meet to enjoy such diverse hobbies as learning to box, appreciate poetry and practice Irish dancing. On his return Jimmy brought a gramophone and some records of the latest dance music from Harlem. Soon there was an addition to the hall's repertoire and everybody was having great fun while learning to dance like Americans.

When he wasn't teaching the jitterbug Jimmy helped his neighbours assert their rights over the local landowners and arranged for tenants to be reinstated in their cottages when they had been turned out of them. This incurred the wrath of the landed gentry and the church and before long Jimmy was being denounced by Father Sheridan (Norton) for his "subversive behaviour" during his Sunday sermons.

Director Ken Loach, who received the Palme d'Or in Cannes in 2006 for his movie The Wind That Shakes the Barley, continues to explore Irish history in Jimmy's Hall. There is nothing he likes better than to examine injustice and he and screenwriter Paul Laverty have found a worthy example of this in the true story of Jimmy Gralton. Together they invoke the life of the rural poor in Ireland and show how people grasp at the chance of happiness when they can find it. They also show the past and present strength of the Establishment, and particularly the Church and the damage it can do to individuals who challenge its power.

With his new and possibly last movie Mr. Loach has his audience very firmly on the side of the downtrodden people Jimmy tried to help. He has also ended his illustrious and sometimes controversial career by giving us a very enjoyable and memorable movie. This is a movie to see. (Jenny M.)

Second Opinion by Marinell H.

 ½    

Ken Loach's atypical film begins in 1932 rural County Leitrim, Ireland, with two men companionably traveling in a horse-drawn cart. His brother's death brings Jimmy (Ward) home to farm for mam. Just after world travels, and earning Yankee money, he missed the land. But, "Nobody's the same after 10 years, Jimmy" Oonagh (Kirby) cautions. Teens dancing in the road force Mossy (Magee) to draw up, and then halt when Marie O'Keefe (Franciosi) and band beg Jimmy to reopen Pearse-Connolly Hall. Whereas the ogre, Father Sheridan (Norton) pointedly tells Alice (Henry) he senses an "air of forgiveness." Although homespun, Alice encouraged her bright son Jimmy, and the community, toward widening perspectives and horizons through books. The Hall: where competent locals taught educational classes, dances were held, and ideas aired. When Jimmy concedes and reopens the Hall, struggles begin anew; the Hall's free exchange of ideas and pursuits stymie the opposition—the Masters (compliant landowners, politicians) and Pastors (wielding Papal doctrine). To rule means controlling the citizens joie de vivre.

Kathleen Crawford's spot-on casting, especially for the "Trinity," is predominately local Irish. Embodying the atmosphere of newly won political independence, albeit not quite free, is an ex-IRA cum slyly orthodox politician, Brían F. O'Byrne (O'Keefe); a charismatic radical pauper, the relatively unknown credible Barry Ward; the veteran Jim Norton (Father Ted), a pompous petulant priest. Warily circling one another throughout the film, neither priest nor pauper gives in—a begrudgingly mutual esteem transpires. Andrew Scott (Father Seamus) is a Berlinale (film festival) Shooting Star recipient, Donal O'Kelly (Cian) is the playwright, Martin Lucey (Dezzie) played in Barley, and Aisling Franciosi (Marie) is a trained opera singer. Some of the locals participating in minor roles should have run lines more often before appearing on-camera.

Loach (The Wind That Shakes the Barley 2006) embraces, and movingly relates a factual snippet of Ireland's modern history. Paul Laverty judiciously converts Donal O'Kelly's play into a screenplay concentrating on political activist James Gralton—deported for alleged sedition, sans evidence or trial and definitely not one of Ireland's finer moments—without becoming mired in the country's tumultuous background. The detail-oriented Loach shot in Co Leitrim and in Sligo: with production designer Fergus Clegg the Garda barracks was exactly recreated; constructed in Scotland then flown over, the Hall was destroyed following six weeks of shooting.

Robbie Ryan's cinematography captures the scope of the magnificently primal northwest landscape, sharpened by George Fenton's music. Kudos to the behind-the-scenes designers whose painstaking reproductions transport us backward in time: Stephen Daly, Art Direction, and Eimer Ni Mhaoldomhnaigh, Costume. Should this be Loach's swan song (rumored), we soar with him – amused, riled, wanting to return for a second watch-through, and to keep dancing.