Details

Last Updated on Tuesday, 30 December 2014 18:46

1/2
Sweden 2014

Starts January 1,2015
Directed by
: Roy Andersson
Writing credits
:  Roy Andersson

Cast
: Holger Andersson, Nils Westblom, Charlotta Larsson, Viktor Gyllenberg
Length
: 100 minutes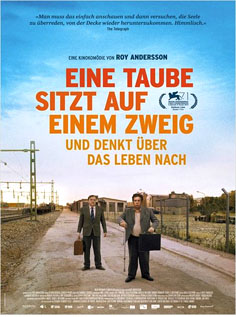 Winner of the Golden Lion for Best Film at the Venice International Film Festival,
A Pigeon Sat on a Branch Reflecting on Existence
  is an oddly affecting film about oddly affecting people – that is to say, all of us. It's the final part of a trilogy "about being a human being" by influential Swedish master Roy Andersson, which started with
Songs from the Second Floor
and continued with
You, the Living.
Like Don Quixote and Sancho Panza, or perhaps Vladimir and Estragon from Beckett's
Waiting for Godot
, Sam and Jonathan are a pair of wanderers through human endeavor, looking vaguely for meaning.  A pasty-faced pair of novelty item salesmen, they approach uninterested potential customers with their suitcase full of vampire teeth and laughing bags, intoning sepulchrally that they "want to help people have fun." 
But fun in the traditional sense is not to be had in Andersson's absurdist, darkly comic world. The film consists of a series of vignettes like tableaux vivants which are organized around two narrative strands, one involving Sam and Jonathan (Westblom and Andersson) and one involving King Charles XII and his infantry, who keep popping in like characters in a Monty Python sketch. Shifting between fantasy, reverie, an impromptu musical number, and (quite shocking) nightmares, Pigeon employs satire to express the comedy of human enterprise and the tragedy of humanity's lack of empathy. Andersson has described three inspirations for the film: 16th-century Flemish artist Pieter Bruegel's Hunters in the Snow, wherein a bird perched on naked branches observes the endeavors of the people below; the Neue Sachlichkeit style of painting, with its bright images and observational, condensed realism; and Homer's
Odyssey
, whose protagonist famously traverses time and existence. All right, then. Viewers with patience and appreciation for the absurd will enjoy the film's striking vision; others may wander feebly out of the theater like Sam and Jonathan, wondering what just happened to them. ( )