Details

Last Updated on Wednesday, 04 February 2015 11:15

USA 2014
Opening February 5, 2015     

Directed by: Bennett Miller         
Writing credits: E. Max Frye, Dan Futterman
Principle actors: Steve Carell, Channing Tatum, Mark Ruffalo, Sienna Miller, Vanessa Redgrave, Anthony Michael Hall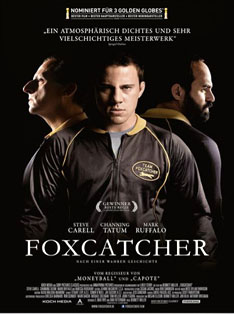 In 1986, Mark Schultz (Tatum), an Olympic champion wrestler, was hired by John Eleuthère du Pont (Carell) to put together a team of champion wrestlers to compete for the United States. Du Pont was a millionaire member of the powerful Du Pont family, famous for their chemical company and thoroughbred horse breeding. The film follows Mark Schultz, his brother David Schultz (Ruffalo) and du Pont's professional and personal relationships as they train for the 1988 Olympics and beyond. As du Pont's behavior becomes more erratic, the Schultz's are directly affected and surprising events follow.

There was never any doubt that Foxcatcher would be a popular choice for awards, as was seen with the Golden Globes where it picked up nominations for Lead Actor (Carell), Supporting actor (Ruffalo), and Best Picture – Drama. It is a slowly paced, intricately pieced-together drama focusing on the emotional depths of the actors in order to propel the story. The true story of the Schultzs' and du Pont is one that is deeply mired in mental illness, jealousy, love, and most of all mystery. Foxcatcher is successful because the actors manage to bring some illumination to these relationships through their intense craft.

Steve Carell is almost unrecognizable as du Pont. This is a role that is so far removed from anything else he has done, that it is truly impressive to see him work. He perfectly encapsulates the striking oddness the man he is portraying, both his charisma and insanity. Likewise, Channing Tatum also does an outstanding job with the slow and deeply conflicted Mark Schultz. What is particularly impressive about this role is that Mark does not speak very often and so the majority of the film rests on Tatum's ability to show his conflict physically instead of through dialogue. This is truly the best role of Tatum's career thus far and it is surprising that Mark Ruffalo was nominated for Best Supporting Actor instead of Tatum. While Ruffalo also does a fine job, the majority of the film rests with Tatum and it is truly he and Carell who make it a success.

Foxcatcher is not a film that leaves one with strong feelings. It is long, drawn out, and unsettling. Perhaps it is because no conclusions are really drawn by all of this, it is simply showing the depths of human relationships and how these can become deeply disturbed. Or maybe the focus should be placed more with the power dynamics between the rich enthusiast and the talented, but poor athletes. There are many hidden depths to Foxcatcher and it will stay with you, despite not being particularly powerful or moving. There is something about its unsettling nature which makes it truly interesting and therefore a worthwhile film to look out for. (Rose F.)

Second Opinion by Marinell H.

1/2

Only two when their parents divorced and despite a subsequent flawed upbringing, two brothers each win Olympic Gold medal in 1984. Currently training for World Championship freestyle wrestling competitions, John du Pont's (Carell) personal assistant (Hall) invites Mark Schultz (Tatum) to meet with John. The eccentric philanthropist proffers a proposition: form a team for the 1988 Seoul Olympics. Overwhelmed by state-of-the-art training facility, the palatial du Pont mansion, manor, and salary, Mark accepts. "We're gonna do great things", the troubled heir enthuses. Mark cannot persuade older brother David (Ruffalo) to uproot his family (Miller, Frazer, Lee) to join their team. No expenses are spared in forming a team and training per John's ulterior agenda. The matriarch (Redgrave) tells her son "you know I find it (wrestling) low". At the 1987 (World) Championships, John watches the brothers—as different as night and day—competing. Whereas Dave also notices their closeness, later meeting John. As John and Mark's relationship deepens – "friends call me Eagle or Golden Eagle… or John or Coach", and independent of his celebrated brother, Mark's personality begins to surface. But John's volatile mood affects everything, including enticing Dave with family in tow to join Team Foxcather, with permanent repercussions.  

The film's pace – its stillness, mirrored in Carell's Oscar® worthy performance, adds to an innate evilness. Counterbalancing this is Bennett Miller's empathetic and levelheaded direction that evokes compassion rather than schadenfreude for the lonely, neurotic millionaire. Tatum and Carell excel in their performances, proving each is beyond muscle man and sex comedy—respectively—roles. Tatum simmers with frustration: a kid trapped in a man's body, overshadowed by Dave, and involved in a brutish business. Carell is mesmerizing: remote, obsessive, jealous – John spins on a dime, confident his power and money negate interference. His riveting performance overrides Mark Nieman's silicone prosthetic nose—making Carell unrecognizable—within minutes. Ruffalo's performance as David is compassionately well rounded. Greig Fraser's camera is alert whether in the mansion or on the mat, accompanied by Rob Simonsen's music. Credit Jay Cassidy, Stuart Levy and Conor O'Neill for all-embracing editing. Based on facts, Foxcatcher capitalizes on good storytelling rather than lurid sensationalism. It charges audiences to want to learn more about this very complex yet fascinating relationship.