Details

Last Updated on Tuesday, 31 March 2015 12:33

Germany 2015 
Opening April 9, 2015
Directed by
: André Erkau
Writing credits
: Brinx/Kömmerling
Principle actors
: Lorenzo Germeno, Tristan Göbel, Uwe Ochsenknecht, Armin Rohde, Christoph Letkowski, Tyron Ricketts, Alice Dwyer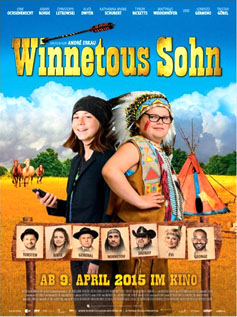 Max (Germeno
)
is a strange boy. Ten years old, chubby and clumsy, he is nevertheless happy in his world of Indians. In fact, he believes that he is an Indian chief, an idea supported by his musician father who is always good for fun and fantasy. Sadly, his parents are separated, perhaps not for good, but at the moment Max lives with his mother and experiences her boyfriends. She delivers him to an Indian summer camp for kids, where they wear feather headdresses and sleep in tents, a perfect venue for Max, who even converses in Indian dialect and says wise words like "The White Man has the clock, but we have the time," or "The White Squaw speaks with a forked tongue." Max bonds with newcomer Morten (Göbel) after initial difficulties. Morten also has his problems, e.g., girls make fun of him because he can't ride a bicycle. Both boys believe that life will take a more positive direction when Max has been selected to play the son of the Indian Winnetou at the annual open-air Karl May festival. His optimism is almost unreal considering that the decision lies with the mean, tyrannical director (Ochsenknecht) and Alexander has yet to learn how to ride a horse, not to mention his nerdy appearance. 
This is a delightful film for children and adults, whether you know anything about Karl May or not. Naturally, you will have a different perspective if you
have
seen a Karl May presentation (Karl May Festspiele) , perhaps in Bad Segeberg, near Hamburg, Germany, which you must do sooner or later. Winnetou doesn't look half as good as in the original (e.g., Pierre Brice), and the site is obviously some smaller soccer field – not the big arena where the original is shown. No matter. This is all about Max who changes everyone's life for the better plus a few digs at the whole Karl-May spectacle thrown in for fun. (
Becky T.
)