Details

Last Updated on Wednesday, 06 May 2015 09:13

UK | Italy | Spain 2014
Opening May 21, 2015

Directed by: Michael Winterbottom
Writing credits: Paul Viragh
Principle actors: Daniel Brühl, Kate Beckinsale, Valerio Mastandrea, Cara Delevigne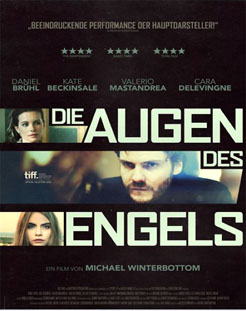 Details of the "Amanda Knox" murder case in Italy have been well published in the international press. The case inspired British director Michael Winterbottom's (The Road to Guantanamo) latest film The Face of an Angel. He is looking behind the media circus, searching for the truth and at the same time finding one's own soul. His unconventionally told crime story is loosely based around the events of the mysterious murder of the 21-year old British student Meredith Kercher in Perugia in November 2007. After a controversial Italian law suite, the 20-year old American Amanda Knox and her boyfriend Raffaele Sollecito were declared "guilty" in December 2009 - but many questions still remain open - and both live again in freedom. Up to now the case has never been totally solved.

The film deals with the hyped-up atmosphere in the Italian city where the court case is handled. Thomas (Brühl), a young filmmaker, wants to make a documentary. He meets with Simone (Beckinsales), an English-speaking journalist living in Italy, who is willing to help him. Soon he is sucked into a whirlpool of mysterious events, meeting weird people, like the shady Blogger Edoardo (Mastandrea), and getting caught in dark allies. The entire city seems to be involved in the murder case, haunted by suspicion, manipulation and corruption. The international media is meeting in crowded bars, discussing their own investigations and running off en masse as soon as some news is announced. The excitement and fascination is catching. When Thomas talks to the young British student Melanie (Delevingne) in the coffee shop, she is not only willing to act as his tour guide but also supplies him with some dope. No wonder he soon sees demons in the street. It becomes clear that his own personal problems are catching up with him. Once he was a successful film director, with his wife as the movie star. For the last four years nothing has come right for him. His wife left him, living with their nine-year old girl in the US. Her TV-partner of a successful series now acts as his daughter's new father. Only the occasional Skype conversation is left for Thomas. How does his loss compare to the disaster he is witnessing around him, the murder of a young woman which is until now still not clarified?

Director Winterbottom's film looks at many angles of the human psyche, the personal emotions around such a shocking event and its obvious fascination and reaction by the public. (Birgit S.)

Second Opinion by Pat N.
***

Based on the book Angel Face by Barbie Latzau Nadeau, this film aspires to present a different angle on a true story, the brutal murder of a British student, Meredith Kertcher, in Italy in the year 2007. Amanda Knox, a 20 year old American student and friend of Meredith's, and Amanda's Italian boyfriend Raffaele Sollecito were originally accused of the murder but later acquitted. To this day the case has not been clarified completely. The term "angel face" refers to Amanda Knox's very pretty face, which dominated the media at the time and probably contributed to her acquittal.

In order to present a different take on the story, Winterbottom pushes the murder itself to the background and invents a fictitious figure, a filmmaker called Thomas Lang (played by Brühl), about whom the movie revolves. Thomas goes to Italy to investigate the murder case and make a film about it. Several different stories unfold around Thomas and his experiences in Italy.

First of all there's the story of Thomas's personal crisis because of his separation from his wife and child and his failure as a filmmaker. In Italy it comes to a head as Thomas becomes involved in sex, drugs and the free and easy life of young people living very much like Amanda and Meredith once did. Then there is the story of what exactly constitutes the truth in such a case. Thomas supposedly attempts to get to the bottom of things, as opposed to the press, whose job is to write something that sells to the public. You are given so many different perspectives on the case, including those of the lovely, down-to-earth journalist Simone (Beckinsale) and a weird local blogger called Edoardo (Mastandrea), that you begin to question whether there is any such thing as truth and justice. Another story is supposedly that of the victim, Meredith Kertcher alias Elizabeth Pryce. Winterbottom claims that he wanted to pay more attention to the victim since the perpetrators received so much attention at the time of the murder case. But the movie doesn't really accomplish this, and the victim continues to remain vague. Finally there is the story about love between a father and his daughter, the only thing that seems to remain constant in a chaotic world, perhaps also the only thing that comes close to truth. This is touched upon in nightly skype sessions between Thomas and his little girl in L.A. and in his relationship to a child-like and guileless young British student called Melanie (Delevingne), who waits on tables, likes Italian literature, and brings Thomas back on track. It is also brought into focus at the end of the movie with a melodramatic eulogy by father of the victim at her funeral, in which he quotes a heavy passage from Dante's Inferno.

All in all, so many different stories are interwoven that the movie lacks a convincing and inspiring storyline. On the contrary, you leave the movie feeling pretty confused and slightly bored.