Details

Last Updated on Saturday, 31 October 2015 13:55

Italy | France | Switzerland | UK  2015
Opening November 26, 2015     

Directed by: Paolo Sorrentino                       
Writing credits: Paolo Sorrentino
Principle actors: Michael Caine, Harvey Keitel, Rachel Weisz, Paul Dano, Jane Fonda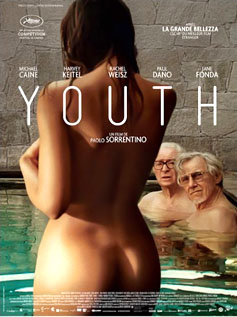 Fred (Caine) and Mick's (Keitel) friendship stretches over decades, wives and liaisons, family and unions, and their artistic projects. The octogenarians' presently vacation at an exclusive Swiss Alps hotel catering to celebrities and people of means. A determinedly retired conductor, Fred is maintaining a tradition, even as Lena (Weisz) doggedly keeps dad's schedule. Mick, still directing, combines pleasure with business: ever optimistic, he is determinedly finishing his 'swan song' screenplay with a keen, youthful team. During companionable conversations, Fred and Mick acknowledge that good friends tell each other only good things. The guests' routine of fitness, refined entertainment, and healthy cuisine is soothing, if not underwhelming. Fred and Mick relieve tedium watching other guests and concocting scenarios, while a gifted actor (Dano) watches everyone preparing for a big role. With each passing day, events unfold as acquaintances are made. A Queen's emissary cannot coerce the conductor, and Miss Universe's (Madalinaefeat Diana Ghenea) arrival casts a spell, whereas the director's Muse (Fonda) breaks one. "Emotions are all we've got," Mick sagely observes.

Layers of human acuity succeed in making Ewige Jugend stand out. Paolo Sorrentino's screenplay and directing is impressive; the characters—young, old, rich, poor—interactions and exchanges richly depict the potentiality for personal growth. Michael Caine and Harvey Keitel's pivotal performances are empathetic, astute, and the cast stellar. Luca Bigazzi's clever cinematography, Cristiano Travaglioli's editing and David Lang's music complement the film's aestheticism. Baffling are obscure characters and scenes: an obese "celebrity," certain sauna incidents, a masseuse's (Luna Zimic Mijovic) actions. Yet overwhelmingly, cinema's magnetism is alive and well: "you know what awaits you outside… youth"! Should your curiosity be tweaked, Fred's A Simple Song is sung under end credits. 118 minutes (Marinell H.)

Second Opinion by Brenda B.


Sicilian director Paolo Sorrentino's style is highly operatic and visually extravagant. His previous two films The Great Beauty, winner of the 2014 Oscar for best foreign language film, and Il Divo, a blood-soaked drama about former Italian Prime Minister Giulio Andreotti, centered on men pondering the regrets and rewards of a life lived in the spotlight. So too with Youth, which features Michael Caine as an insistently retired British composer contemplating both the indignities of old age and the burden of celebrity. Ensconced at a luxurious Alpine spa, Fred Ballinger has refused repeated requests from an emissary of the Queen to conduct a Royal Command performance of his early masterpiece "Simple Songs." He wants to be left alone, and he seems to have come to Davos (setting of Thomas Mann's Magic Mountain) out of a 20-year habit rather than with a particular goal in mind. His beleaguered daughter and assistant, Lena (Weisz), and his old friend Mick (Keitel) are there having massages and mud baths alongside him. Mick is still working as a Hollywood director, and he's brought along a coterie of youngsters to help him develop his new film – and though it's meant to be his "testament," nobody can come up with an ending. This great work will feature one of Mick's muses, diva Brenda Morel (Fonda, terrifying in heavy makeup and a fright wig). Also in residence is an intellectual L.A. movie actor (Dano) whose greatest regret is that he once 'gave in to levity' and played a robot on film. To his disgust, his legions of fans now consider this his greatest accomplishment.

All these searchers drift around the sumptuous grounds of the weirdly soulless resort, unchanged since its construction as a sanatorium in 1900. The old guys wax sentimental, regretting their lost youth and lost loves. Fred has a reserved relationship with his daughter and hasn't visited his ailing wife in Venice for years. He seems to have little passion for anything except conversations with Mick -- though he sometimes furtively conducts a bovine symphony on a hillside meadow. He badgers Mick to tell him whether he slept with a woman they both loved long ago. Mick, in turn, is clinging to his unfinished film project as proof that he's still got what it takes.

Youth is both nostalgic and current; elegant; and intrinsically macho. These octogenarians, cognizant as they are of their faded youth, don't tire of gazing at, or thinking about, young women's bodies. There is much discussion of decay, both physical and emotional, and one could be excused for thinking the 45-year old director might be working out a sort of mid-life crisis on-screen.

The idiosyncratic hotel workers and guests are reminiscent of caricatures à la Fellini. They suffer visions and nightmares rooted in past and present fears, which Sorrentino works into delightfully vibrant and unexpected interludes. Typically for Sorrentino, the music varies widely, from Fred's classical compositions to indie folk, to an alarming fantasy by British pop star Paloma Faith. Luca Bigazzi's cinematography is marvelous, compositionally striking, and often painterly. Boos and bravos followed Youth's press screening in Cannes, and it will surely divide audiences as well.

Third Opinion by Pat F.


1/2
Fellini would have approved. Youth exudes wistful octogenarian decadence, now all but impotent, yet lovingly and dreamily wrapped in occasional mystical illusions. The location is a posh spa in Davos, Switzerland, populated with faceless pasty bodies pampered with massages and mud baths. Director and writer Sorrentino most certainly had Michael Caine in mind when he created Fred Ballinger, the once dynamic now totally apathetic British composer spending his December years in this opulently tranquil setting. Fred's many women have come and gone. His daughter Lena (Weisz) certainly loves him though perhaps he doesn't deserve it. His old friend Mick (Keitel) is his best friend probably because they never speak of anything unpleasant. The only possible rift is over a girl Gilda Black who they had both loved as youths. Fred, so many years later, continues to seek reassurance that Mick had, like himself, never slept with her. It is ironic considering Fred's countless conquests, yet touchingly nostalgic, a tribute to the lost innocence of youth. Paul Dano as actor Jimmy Tree and Jane Fonda as actress Brenda Morel both shine, Paul as a reluctant Nazi, and Jane as a diabolical, destructive diva.

Cinematographer Luca Bigazzi brilliantly captures the picture postcard majesty of the alpine countryside. He borrows a little of Wes Anderson's aura when shooting the sumptuous Swiss spa. He recreates Fellini like magic filming quirky fantasy shots including concert performing cows and an Indian guru levitating. Youth is humorous, melancholy, and an absolute must see movie for all ages, though those of an older vintage may savor it most.