Details

Last Updated on Wednesday, 16 December 2015 09:55

UK | USA 2015
Opening December 24, 2015     

Directed by: Bill Condon                       
Writing credits: Mitch Cullin, Jeffrey Hatcher, Arthur Conan Doyle
Principle actors: Ian McKellen, Laura Linney, Milo Parker, Hiroyuki Sanada, Hattie Morahan, Patrick Kennedy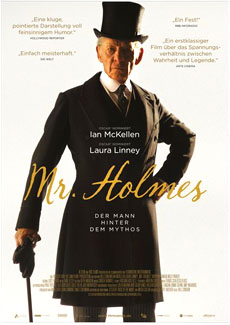 Beautifully crafted, Mr. Holmes heart rendering story juxtaposes a highly intelligent nonagenarian coping with the onset of dementia, and an exceptionally bright boy in 1947 Sussex, England. Sherlock (McKellen), freshly returned from Japan, finds his doctors (Roger Allam) realistic diagnosis tiring. A person of few words, Sherlock habitually communicates through facial expressions and vocal sounds that his housekeeper (Linney) understands, so quietens her son (Parker). Finding his beloved apiary unkempt, concurrently Holmes' curiosity is aroused when he realizes Roger is an astute listener, and participator in storytelling. Specifically, in Holmes' revision of one of Watson's books. Therefore, it evolves the precocious youngster begins helping Holmes' in the apiary, and his investigation. Interwoven are flashbacks: Holmes' encounter with Mr. Umezaki (Sanada) and acquiring Japanese prickly ash, and the circumstances of Holmes' last case on which his rewrite is based. When Mrs. Munro leaves Roger for the day with Sherlock, the old sleuthhound's logical mind astonishingly deduces her underlying reason. But, time waits for no one, or his or her mental capacity. Still, a lifetime's habit pays in spades for Sherlock when stakes are the highest.

The British Broadcast Corporation has a reputation for producing distinct, exceptional programming, which is exemplified in this film. Directing a stellar cast, Bill Condon last collaborated with Ian McKellen in Gods and Monsters (1998). The onscreen chemistry between McKellen, Milo Parker—a youngster to keep an eye on—and Laura Linney is so credible it is easy to imagine their forming a family unit. Virginia Katz's wise editing, Tobias A. Schliessler's perceptive cinematography, and Carter Burwell's unobtrusive music follow Condon's pacing—slowly drawing us in then increasing as all the pieces in the puzzle come together. Mr. Holmes attests to a human's capacity, at any age, to learn and love in this wonderful film. 105 minutes (Marinell H.)


Second Opinion by Ann G.-T.


 
 
This is a different take on Sherlock Holmes (McKellen). Now he's 93, a tall, angular, terse old man at the onset of dementia; Mycroft and Watson are long deceased, and his fame is fading. In 1947 he is retired to a remote farmhouse in Sussex, his sole companions being his reluctant housekeeper (Linney), her young son (Parker), and the bees in the back garden.

Years before, Watson wrote a series of bestselling novels based only loosely on the facts of their cases, and these are what the public still remembers about Holmes. This is a constant source of irritation to Mr. Holmes, who prefers a less sensational and more truthful approach to the facts. However, when the housekeeper's son is genuinely curious about his past, Holmes realizes with horror that he has forgotten the details and outcome of his decisive last case. He gropes to remember this case and the reason he gave up his profession, and as he probes his memory the decisive events of 1919 resurface.

Mr. Holmes' psyche and his 1947 cottage seem interchangeable to me: the farmhouse is roughly-hewn with many small inaccessible rooms blocked with steep stairs, boxes and obstacles, closed drawers and doors. The view from the garden to the white cliffs of the coast is breathtaking. The setting is perfect for the story; it is as if the aura of the farmhouse is an additional character in the film. The flashbacks to London Baker Street in 1919 and to a separate but connected case in Japan are very cleverly done, as are the "film within a film" clippings of Mr. Holmes watching a fictitious Sherlock in a B-movie in distaste for the mythical deerslayer hat and the utter fiction of the story.

The truth unfolds very slowly, but the subtlety and irony of McKellen's performance is worth every moment of modern impatience.