Details

Last Updated on Monday, 21 December 2015 12:01

USA 2015
Opening December 17, 2015     

Directed by: J.J. Abrams                      
Writing credits: Lawrence Kasdan, J.J. Abrams, Michael Arndt, George Lucas
Principle actors: Daisy Ridley, Mark Hamill, Carrie Fisher, Harrison Ford, John Boyeg, Oscar Isaac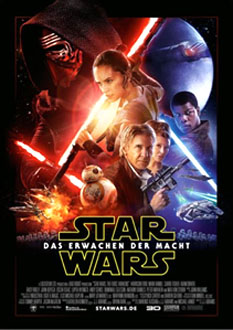 Everyone should experience Star Wars: Episode VII - The Force Awakens with fresh eyes. Suffice it to say, "A long time ago, in a galaxy far, far away…" the Resistance (Rebel Alliance) is attempting to locate, and save, the last Jedi, Luke Skywalker. The powerful Supreme Leader Snoke (Andy Serkis), hell-bent on preventing this, sends out his dark warrior and commander Kylo Ren (Adam Driver), and General Hux (Domhnall Gleeson) with the First Order's (Galactic Empire) army. Set some 30 years after the Return of the Jedi (1983), it is great to be with old friends, i.e. characters—Ford, Hamill, Fisher, Max von Sydow, Peter Mayhew, and Mike Quinn to name a few. And meet new friends—Ridley, Isaac, Boyeg, Driver, Anthony Daniels, and company in George Lucas' epic space opera.

Amazingly, Lucas struggled to find a studio to support his film idea in 1973; initially released in May 1977 to less than thirty-two cinemas, it immediately became a pop culture phenomenon globally. The Star Wars franchise also includes television series, computer and video games, books and comic books contributing to the fictional universe's growth. Lucas' passion waned by the time his prequel trilogy was released between 1999 and 2005, albeit still commercially successful. In 2012, Disney bought Lucasfilm, along with the Star Wars franchise. Lucasfilm's now president, Kathleen Kennedy, brought Lucas in as creative consultant on Disney's first film in a Star Wars sequel trilogy. Lucas handpicked J.J. Abrams—fantastic embodiment—to direct, with John Williams' returning to score this seventh film—Williams' revisited (characters) theme music from previous scores. Episode VII successfully maintains continuity and integrity. The film's brilliancy is: its cast, and production and creative teams rich imagination and masterful expertise. The 3-D works, though earlier Star Wars' enthralled audiences without it.

Years ago, friends in San Francisco, California participated in a test screening for Star Wars. George Lucas came forward, and apologetically introduced his film; the lights dimmed. From behind, they heard the roar of a forceful engine as a detailed spaceship filled the screen: "Awesome! An unforgettable experience". George Lucas' Star Wars universe is alive and well, thus heed Maz Kanata's (Lupita Nyong'o) words: "The Force, it's calling to you. Just let it in". 136 minutes (Marinell H.)
Second Opinion by Ericka S.


1/2

Leave to a monolithic studio like Disney to reinvent the wheel a seventh time and have its audience scratching its head (wondering is that a wheel?) and clamoring for more. If you're a '80s child and can't remember which was the last Star Wars film you actually saw, you'll be reminded that it was probably Return of the Jedi or one of the first three films to hit the screen. If you're new to the epic saga, you'll be drawn in completely as many were nearly 40 years ago. There's something oddly familiar about Rey's costume and Maz Kanata's eyes or skin. Did Han Solo really recycle some of his old Chewbacca jokes? And does Poe hauntingly resemble good ol' Luke in his helmet in the cockpit? Is Maz some kind of intergalactic mash-up of Yoda and ET?

Taking place in a well-known Star Wars world about 30 years after Return of the Jedi ends with Luke in hiding in another galaxy, The Force Awakens is a reliving of the synergy that made the first 3 films in the Lucas empire instant silver screen classics. But maybe that's exactly the genius of Lucas, Disney and now Abrams -- giving die hard SW fans just what they've been longing for. With a powerful young lead, Rey (Ridley), and her equally non-traditional cohort, Finn/FN-2187 (Boyega), the new cast finds itself fighting the First Order back in the Jakku dessert, in the Tatooien forest and in the hull of the Millennium Falcon, just like in the good old days. Rey, Finn and BB-8, a desert scavenger trying to make ends meet, a reformed Stormtrooper looking for a way out, and a rolling, wobbly droid carrying vital rebellion information, respectively, form the core of the motley crew who steal the Millennium Falcon  as rebellion sympathizers trying to get the droid back to rebel forces, only to be picked up by Solo (Ford) and Chewbacca, and later run into R2-D2 and C-3PO.

The fighting scenes with light sabers sizzling in the snow, vast deserts with strange creatures, and the aerial attacks between X-fighter pilots and their enemy make for visually stunning eye candy. Although, there's not much blood, the fatal blows, fiery explosions and blaster shots are enough to warrant a warning for parents of youth under 12.

It's clear the film leaves the door wide open for a sequel or two. We'll definitely see Rey, Finn, Poe and Chewbacca in another galaxy, slightly less far away. What's unclear is the fate of Kylo Ren (Driver) and General Organa, aka Pricess Leia (Fisher). But never fear, it'll be reveal masterfully piece by piece by the Lucas /Abrams teams for years to come.