Details

Last Updated on Thursday, 05 January 2017 08:35

USA 2016
Opening January 12, 2017     

Directed by: Damien Chazelle                                   
Writing credits: Damien Chazelle
Principal actors: Ryan Gosling, Emma Stone, J.K. Simmons, John Legend, Keith Harris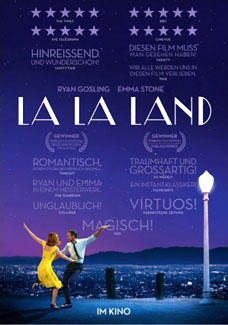 Damien Chazelle clearly likes music, and making unusual films. Chazelle, who wrote-directed the 2014 Oscar® wining Whiplash, now stretches by leaps, bounds and tap dance with this musical, La La Land. Exceptional chorography with distinct lighting, in concert with an interesting mix of music, is incorporated in the script. Its forte however, is the chemistry between Ryan Gosling (Sebastian) and Emma Stone (Mia), whose command of their characters' personalities elevates the film.

Sebastian and Mia's first encounter is during a typical Los Angeles traffic snarl; their second is likewise unpleasant. During the following seasons, their meetings ripen, bloom, then flowers. They share their dreams: one desires stardom, the other's centers around jazz. When push comes to shove, Seb's sacrifices help expand Mia's attainable alternatives. Despite the magnanimity of the action, it is unreciprocated, and begets irrepressible consequences.

Nicely mixing drama, humor, and song and dance routines with a flux of characters that change with the seasons, the story moves forward nicely. Chemistry aside, Gosling and Stones' voices are thin, reedy, although they hold their own performing the dance routines. David Wasco's production design is timeless. Linus Sandgren plays with his camera filters achieving a storybook atmosphere that Tom Cross snips in tune with Justin Hurwitz's music. It is nice to see a revival of the musical genre, and La La Land visibly captures the spirit of the city and its inhabitants. 128 minutes (Marinell H.)
Second Opinion by Becky T.




Sebastian (Gosling) is in a traffic jam on a Los Angeles freeway. Mia (Stone) is in the same situation, also in her car. Naturally, if everyone drives off, one person to a car, a traffic jam is the logical result. What isn't logical is that the drivers suddenly overcome their frustration to jump out of their cars and dance, and here we are: in a musical!! This is the first time that Sebastian and Mia see each other, just barely, through car windows while sitting behind steering wheels. Sebastian is a talented jazz pianist whose attempts to rise to the heights of success fail, because he plays the jazz he likes, "such a traditionalist holding on to the past." His type of music isn't popular. Mia goes to auditions. She wants to become a successful actress, but is also having a hard time. They actually get to know each other even enjoy each other's company. Sebastian encourages Mia to write her own script, to do her own thing; he helps her at the risk of neglecting his own career.

Director Damien Chazelle is known for his prize-winning film Whiplash, about a jazz drummer who suffers at the hands of his overly strict music teacher. So, it is not surprising that his next film is also in the music genre, this time truly a 1950's musical with an old-fashioned, universal plot in a modern city of today. Suddenly the title La La Land has a double meaning. Chazelle says, "I think the musical as a genre is a great vehicle for expressing that balancing act between dreams and reality." He says he wants to "show how you balance your relationship to your art with your relationships with other people." Producer Marc Platt says, "Damien has reinvigorated the genre by drawing on classic elements, but bringing them forth in a way that speaks to contemporary life in LA." It's Fred Astaire and Ginger Rogers and Gene Kelly, all over again, except that in those days the cell phone would not have interrupted the tap dancing, and it's wonderful. The settings and costumes are tremendous – very visual; there is all-new original music composed by Justin Hurwitz. Singer/songwriter John Legend plays Keith, a band leader who tries to recruit Sebastian. Anyone familiar with Los Angeles will recognize certain sites such as the Griffith Park Observatory. I watched the film parallel to watching films at the 2016 Filmfest Hamburg and La La Land was such a joy, such a release after being exposed to the heavy, serious, problematic episodes at the film festival. I walked out of the cinema with a huge smile and the wish to see the film again! And I will. You, too, I hope.