Details

Last Updated on Tuesday, 02 May 2017 12:18

1/2  | 

1/2
UK 2017
Opening May 25, 2017     

Directed by: Jonathan Teplitzky                                    
Writing credits: Alex von Tunzelmann     
Principal actors: Brian Cox, Miranda Richardson, Ella Purnell, Steven Cree, Jonathan Aris, George Anton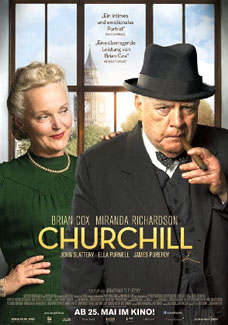 In June 1944, the past keeps pulling at Winston Churchill's conscience, as the present demands his attention. World War II at 1,736 days and the Allies need their joint strategy—Operation Overlord—to succeed. Beginning four days prior to the Normandy Landings, i.e., D-Day, we follow history winding its course day-by-day. Central is Britain's physically/mentally exhausted Prime Minister and those closest to him and his interactions with Allied Expeditionary Force members culminating with Churchill's inspirational nationwide address amid two crucial engagements.

Jonathan Teplitzky (Burning Man, The Railway Man) directs with a screenplay by Alex von Tunzelmann (historian, author) focusing on the strengths and frailties of a complex, controversial, contradictory statesman. They certainly had enough material to work with. Born into English nobility, eloquent (a 1953 Nobel Prize in Literature recipient), moralistic, insightful non-academic historian, Churchill was happiest immersed in state of affairs whether military, political, or personal. Brian Cox brilliantly illustrates Churchill's force of nature, and weaknesses that Miranda Richardson accentuates, compliments as life-long wife Clementine. John Slattery (Dwight Eisenhower), Julian Wadham (Bernard Montgomery), Richard Durden (South African Jan Smuts), James Purefoy (King George VI, with slight stutter), Danny Webb (Alan Brooke) deliver equally strong performances.

Attention to detail by Chris Roope (Production Design), Neesh Ruben (Set Decoration) and Bartholomew Cariss (Costume Design: the sequence of Churchill dressing before the radio address demands attention.) Both David Higgs' Cinematography and Chris Gill's Film Editing is creditworthy; Lorne Balfe's Music is at times high-handed. Hence, what makes the film so humdrum? Operating in real-time, it lacks the dynamic associated with Churchill: flashbacks regarding his life, and carefully inserted archival footage would have gone a long way.

That does not preclude audiences' curiosity being aroused about 20th century earth-shattering events, and Sir Winston Churchill's legacy: "Never in the field of human conflict was so much owed by so many to so few." Read more about Churchill at: www.bbc.co.uk/timelines/z363gk7. 98 minutes (Marinell H.)


Second Opinion by Carola A.


1/2

This docudrama about the last days leading up to World War II's "D-Day" in June of 1944 assumes the perspective of the Prime Minister of the United Kingdom, Winston Churchill (Cox). The Allies were called upon to decide on a plan to defeat Nazi Germany. General Eisenhower (Slattery) appears decisive and confident when pushing for the invasion of Normandy. Churchill is haunted by memories of World War I, worn out by years of war, burdened by the responsibility, and worried that a failed operation would tarnish his reputation. The film paints the picture of a deeply troubled and complicated man who stubbornly, to the very last minute, fought for a different war strategy. Clementine Churchill (Richardson) tries to exert her influence on her husband but is close to reaching her limit.

This production is uneven and often turns overly pathetic. Given the subject matter, it should have been possible to create real suspense. Since this is also kind of a history lesson, text insertions identifying a few more of the protagonists would have been much appreciated. Cox's and Richardson's performances as well as parallels that one might draw to current events and to who makes which important decisions and why, make it interesting to watch after all.