Details

Last Updated on Sunday, 02 July 2017 13:47

1/2  | 

USA 2016
Opening June 15, 2017     

Directed by: Patty Jenkins                                             
Writing credits: Allan Heinberg, Zack Snyder, Jason Fuchs, William Moulton Marston    
Principal actors: Gal Gadot, Chris Pine, Robin Wright, David Thewlis, Connie Nielsen, Ewen Bremner, Danny Huston, Elena Anaya, Lisa Loven Kongsli, Eugene Brave Rock, Saïd Taghmaoui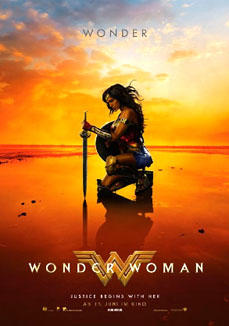 Mythology, fantasy and reality co-mingle in Allan Heinberg's clever screenplay told in storybook fashion under Patty Jenkins' direction. The American comic books superhero, Wonder Woman, first emerged in a DC Comic October 1941. She has since graced the cover of Ms. magazine (1971); a TV series starring Lynda Carter (1975–1979); merchandise, animations, et al. No surprise then Wonder Woman gets the spotlight in DC Extended Universe's fourth episode.

A young professional (Gadot) takes possession of package: a photograph with a note. That photograph is our link to her history that is linked to a protected past on Themyscira island. A gift of Greek gods and home to Amazon female warriors, a little princess (Emily Carey) defies mom (Nielsen), with help from aunty (Wright), to land on her chosen side of destiny. Reality crashes into the island in human, contemporary male form (Pine). Her aunt's final instructions strike a deep-seated chord in Diana. Overcome by Steve's plight, Diana goes to aid mankind. In London, awash with friend and foes alike (Thewlis, Lucy Davis, James Cosmo, Dominic Kinnaird), Steve warns his superiors about evil fiends' (Huston, Anaya) scheme. But, the First World War's armistice is underway. So, with help from a motley yet loyal bunch (Taghmaoui, Bremner, Brave Rock), the fiercely determined Diana and a focused Steve take off for no man's land.

The challenge for Warner Bros. with DC has been working out tricky elements – finding an open story line, female director and star, etc. The lengthy gestation's payoff is an exciting, kick-ass adventure. The cast is terrific. The visual intricacies—production design, art direction, sets, costumes, make-up and hair—are in tandem with the visual tricks—special effects, visual effects, animation. Cinematographer Matthew Jensen's palette is balanced; Martin Walsh skillfully joins complex segments into coherency, and female stunt performers receive special thanks in the end credits.

Curiously, some guys dislike the beginning Amazonian section: William Moulton Marston, an American psychologist, writer, and creator of this fictional superhero (with artist Harry G. Peter) was inspired by feminists, especially Margaret Sanger the birth control pioneer. The nature of comics is to capture attention to entertain by being funny, shrewd, and topical. This adaptation meets expectations and holds it own. Comics aside, "…mankind is another story altogether." 141 minutes (Marinell H.)
Another Opinion by Nava B.



 
Finally! A super hero action movie with a female lead. This long anticipated movie will not disappoint you. We got a little bit of a teaser in Batman vs. Superman, but this movie is Gal Gadot's time to shine as the new Wonder Woman. Finally we get to learn about this character and see where she comes from.

The movie starts with Wonder Woman's home on a secret island hidden from the world. She is Princess Diana, raised by a tribe of fierce Amazonian warrior women, who are preparing for a fateful battle with Ares, god of war. Wonder Woman has grown up in the bubble of this world and is unfamiliar with the outside world. One day this all changes when an English pilot pursued by enemy soldiers lands his plane on the shores of her home. After saving him, he enlists her to unite forces with him and return to his world to help end the war.

The story that proceeds is one of love, friendship, heroism, and bravery in the face of grave danger. The acting is all around superb, Gadot and Pine have great chemistry and the characters are well written. Be ready for a healthy dose of CGI, but the battle scenes are awesome and it's great to see so many strong women kicking butt. Definitely go see this on a big screen; this is an excellent addition to DC's superhero movies.