Details

Last Updated on Monday, 31 July 2017 13:21

1/2  | 

1/2
USA 2017
Opening August 3, 2017

Directed by: Matt Reeves                                         
Writing credits: Mark Bomback, Rick Jaffa, Matt Reeves, Amanda Silver
Principal actors: Andy Serkis, Woody Harrelson, Steve Zahn, Amiah Mille, Judy Greer, Karin Konoval, Michael Adamthwaite, Ty Olsson, Gabriel Chavarria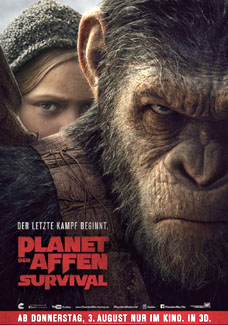 War seems to lead only to despair and destruction with a question of who will survive; the humans or the apes? In this latest Planet of the Apes film directed by Mark Reeves, we see a melancholic vision of the future set to dramatic music which is seen through the eyes of Caesar (Serkis). Due to the loss of his family and, wanting to save his troop of apes, he plots his revenge against the mad colonel (Harrelson) who is responsible for the loss of many lives on both sides. The beginning of the film feels like a Western as the small troop of apes begins their journey, then has the feeling of Apocalypse Now as we meet the Harrelson character's colonel up close, who mimics that of Colonel Walter E Kurtz who has lost his mind but at the same time is seen as a God by his troops.

The eyes of the apes play a pivotal role in this film. The eyes change from grey to green to blue to add to the emotional state of the apes. We relate to them more than we do the humans since they show compassion. The cinematography reveals a vast and bleak atmosphere, while at other times shows the power of nature in all its glory. The film is subtly complex with added bits of humor such as the character Bad Monkey (Zahn) who needs a ski hat and vest to keep warm. The costumes, as well as the make-up, are outstanding and even more creative than in the previous films. There are a few flaws in the film such as when the colonel calls a group of apes a herd and not a troop, as well as how many holes are needed to be dug up from the tunnel below, but somehow that will most likely just add to the cult effect of this film. I don't want to give anything away, but it is definitely worth watching the climax scene. It's truly a hoot!! (Shelly S.)

Another Opinion by Marinell H.


1/2
Three years after directing Dawn of the Planet of the Apes (2014), Matt Reeves and team of writers return with a third installment of the American science fiction reboot series. Franchisee 20th Century Fox released Rise of the Planet of the Apes in 2011 that is based on the successful 1968 Planet of the Apes and its four sequels.

Continually hounded by the Colonel's (Harrelson) ruthless security forces, the welfare and survival of his dwindling intelligent chimpanzee/ape/orangutan/gorilla tribe are paramount for Caesar (Serkis). Therefore, Rocket's (Terry Notary) news is greeted with relief, instigating a plan. Even if retribution takes precedence, benevolent Maurice (Konoval) and righteous Luca (Adamthwaite) tag along despite Caesar's objections. Delving deeper into new terrain, they acquire not necessarily sensible extra baggage: Nova and Bad Ape (Mille, Zahn). Finally facing off, the Colonel and Caesar dance around each other's ego, aware of how much is at stake; watching, Preacher (Chavarria) and Donkey (Olsson) are vigilant. High-pitched emotions, madness and righteousness commingle to a self-fulfilling inevitability, with a little help from nature.

The script is complex, rich of moral magnitude, political innuendos, and biblical allusions that the seasoned, talented cast delivers with poignancy. Serkis and Harrelson were interviewed on The Graham Norton Show (BBC, June 20, 2017): their camaraderie is obvious; Serkis changing into character was fascinating viewing, as was demonstrating how to walk like a chimpanzee. An added treat was hearing/seeing Serkis as Gollum in The Lord of the Rings films. The production design, art and set decoration, et al. (kudos to costumes, makeup) are celebrated by visual effects that are out of this world and Michael Seresin's spectacular cinematography. Michael Giacchino's music is so creatively unobtrusive it pleasurably accompanies the robust, commanding storyline. "Apes are strong," and entertaining – go see for yourselves. 133 minutes