Details

Last Updated on Monday, 02 October 2017 10:50

1/2
USA 2017
Opening October 12, 2017
Directed by
: David Soren
Writing credits
: Nicholas Stoller
Principal actors
: Animation: Kevin Hart, Thomas Middleditch, Ed Helms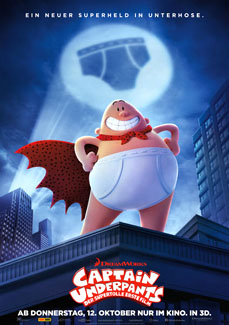 First graders George and Harold sit in their tree house and map out new pranks which seriously upset the school schedule and slowly drive Mr. Krupp, their school principal, crazy. In desperation Mr. Krupp faces them once again in his office, where he sits at a big desk behind a sign that says "Hope Dies Here." He announces his newest plan: George and Harold will be assigned to separate classes with little possibility to meet at school. Naturally, this motivates them to new heights and they hypnotize Mr. Krupp into thinking that he is a super hero named Captain Underpants. In this state of hypnotization, he immediately strips off his clothing and runs out the door to save the world in – naturally – his underpants. George and Harold might be troublemakers, but the real evil character, Professor Poppypants, aka Prof. Peepeepoop, arrives in the guise of a new science teacher. He aims to steal the laughter from all the children.
This is the first film based on the 15
Captain Underpants
books by Dave Pilkey, published between 1997 and 2015. It is much fun, not only for elementary school kids, but also for their parents and older siblings. Who would have thought that toilet paper could have such an important role in a film? (
Becky T.
)