Details

Last Updated on Wednesday, 15 November 2017 10:26

  | 

1/2
UK 2016
Opening November 2, 2017

Directed by: William Oldroyd                                    
Writing credits: Nikolai Leskov, Alice Birch
Principal actors: Florence Pugh, Cosmo Jarvis, Paul Hilton, Naomi Ackie, Christopher Fairbank, Golda Rosheuvel, Anton Palmer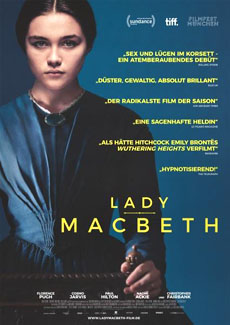 How can you love a child killer? Murderess Katherine is portrayed so beautifully by Florence Pugh that one could forgive her anything. Sold off as a bride to an indifferent rich man twice her age, Katherine soon finds herself left alone in a lovely house surrounded by servants and the endless countryside of 19th century England.

Interrupting abuse of her housemaid Anna (Ackie) by a group of her manservants, Katherine is intrigued by their ring leader Sebastian (Jarvis). Her fascination is matched by Sebastian's lust for her and the two are soon carnally copulating day and night to the silent condemnation of the rest of the household. When Katherine's father-in-law returns from London, she seems surprised but not dismayed that he knows all. What happens next is completely unexpected. It seems Katherine will do whatever it takes to have her man.

Although there was little chemistry between Katherine and Sebastian, perhaps that was not unintentional. As Katherine brilliantly morphs from downtrodden young wife to bold mistress of her own desires, she totally dominates the story leaving Sebastian and everyone else in her dust. Entertainment for girls' night out, eye candy included. (Mary W.)

Another Opinion by Marinell H.


1/2

Fellow Russian Nikolai Leskov's 1865 novella, Lady Macbeth of the Mtsensk District, was first published in Fyodor Dostoyevsky's magazine Epoch. After reading, Alice Birch thought it would make a good film adaptation; director William Oldroyd impressively brings Birch's screenplay to life with dramatic fervor in his debut feature. Giving good ol' 19th century English morality a twist, Oldroyd's austere treatment employs vigorous camera work (Ari Wegner) and high-quality sound design bookended by minimal music (Dan Jones). Atmospheric landscapes magnify Victorian England's class differences and lifestyles.

The modicum of dialogue a stellar cast delivers has resonating impact. The young bought bride (Pugh's commanding performance is mesmerizing) is not immune from negative currents pulsating through the country estate. Like father (Fairbank), like son – the embittered groom's (Hilton) commands are to be obeyed. In this hushed oppressive atmosphere, Katherine's only contact is with Anna (Ackie). When both men are called away, Katherine freely roams the estate. However, encountering the louche newly hired groom (Jarvis) viscerally ignites Katherine. Blithely disregarding her surroundings, and with laser-focused intent she flexes some class-entitlement muscle to achieve her objective. Agnes (Rosheuvel) and Teddy's (Palmer) arrival tempers her ill-intentioned actions… for a while.

By entwining the Victorian-period mindset toward women with his protagonist's antithetical characteristics, Nikolai's title choice for his tragedy à la Shakespeare is understandable. Lady Macbeth's rich, detailed visual storytelling is reminiscent of Alfred Hitchcock's. Pugh and Jarvis' powerful performances depicting the characters' nuanced, spiraling evolvement clearly justify and clarify their characters' rationale for audiences. 89 minutes