Details

Last Updated on Friday, 01 June 2018 19:37

  | 

UK 2017
Opening June 7, 2018    

Directed by: Simon Curtis                                                                  
Writing credits: Frank Cottrell Boyce, Simon Vaughan 
Principal actors: Margot Robbie, Domhnall Gleeson, Kelly Macdonald, Will Tilston, Alex Lawther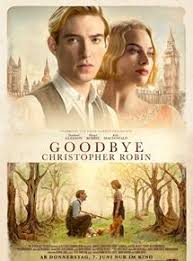 This story-inside-a-story about Winnie-the-Pooh's inception, the character in children's books and poems, is gift-wrapped in lively imagination, and tied by two world wars with a "magic charm" bow. Simon Curtis directs from Frank Cottrell Boyce's and Simon Vaughan's screenplay.

Author A.A. Milne (Domhnall Gleeson), craving quieter surroundings following World War l, moves his family from London to an East Sussex farm bordering Ashdown Forest. Daphne (Margot Robbie) wants her husband to be happy; Nanny (Kelly Macdonald) devises ways to entertain young Billy (adorable Will Tilston) so "daddy can write." The countryside and forest, plus the stuffed animal menagerie and games mummy plays with Billy are inspiring. The guys add to, and expand on these elements to create a make-believe environment. Milne's artistic associate (Stephen Campbell Moore) visits their world: "just get everything you can, we can pick-and-choose later." One thing leads to much more; the family, particularly Christopher Robin, is engulfed by fame's fury, whereby playing is forgotten.

Cinematographer Ben Smithard's skillset is apparent moving among numerous indoor/outdoor locations defining the film's visual identity. An idyllic landscape lead-in stumbles when the sequence becomes confusing: switched and blended are two world wars and the past/present while introducing the characters. Nevertheless, editor Victoria Boydell coherently incorporates plenty of information in 108-minutes considering the over-zealous screenplay. David Roger's production design, and Tim Blake's art direction could have been somewhat drearier considering the time period is bookended by major conflicts and a severe worldwide economic depression. 

The director and screenwriters took certain liberties, yet handle any upsetting elements about Winnie-the-Pooh's creation decorously, thereby adding levels of pathos the stellar cast encapsulate within their characters. Undoubtedly, the film will stir people's awareness, and stimulate childhood memories for many. Beloved around the world, the little bear is the mouse's biggest rival, received a star on Hollywood's Walk of Fame in 2006, was voted an English icon in 2011, and two Polish metropolis named streets after him. Goodbye Christopher Robin evokes and approves youthful fantasy, and will surely warm the cockles of audiences' hearts. (Marinell H.)


Another Opinion by Jenny M.

England's green and pleasant land must have seemed like an unattainable dream if you were mired in the trenches of the First World War. When that war to end all wars was over and if you were wealthy, then you could take yourself off to the peace found in that countryside and try to forgot the horrors you had lived through.

The years which Alan (A.A. Milne, played by Donhnall Gleeson) spent fighting on the Somme haunted him for the rest of his life and his suffering, which we now know as post-traumatic stress disorder, play a large part in the movie. Alan moves his wife Daphne (Margot Robbie) and baby son to an idyllic house in rural Sussex in Southern England with the area which came to be known as the 100 Acre Wood on their doorstep. Daphne lamented that her baby wasn't a girl, because baby boys grew up to become soldiers and she quickly handed him over to a nanny, as was the custom among the well-to-do of the time. The little boy, who was called Billy Moon by his parents and whom we know as Christopher Robin (Will Tilston as a child and Alex Lawther as a teenager) loved his nanny (Kelly Macdonald) as much as his spoiled and rather unpleasant mother.

It was when both mother and nanny deserted Billy Moon that he and his father grew close. The scenes in the movie of father and son in the wood, with the child clutching his teddy bear and playing with his other well-loved soft toys are magical. They show how the seeds of the stories about Winnie the Pooh take root in the mind of a writer and how they come to life in the illustrations of Alan's friend E.H. Shepard (Stephan Campbell.) Daphne had a poem of her husband and son's imaginative world published in a society magazine. It became very popular throughout the country and Alan realised that there was a market for his whimsical tales in a world wearied by four years of war and the hard times for soldiers and their families which followed. Christopher Robin became famous but his fame came at a price which haunted him for most of his life.

There are two themes to Goodbye Christopher Robin and both are well explained and explored by director Stephan Campbell .Billy Moon was an only and solitary child whose companions were his soft toys. His mother helped Piglet, Tigger and the others come to life when she gave them special voices and his father encouraged his son's creativity and wrote down the gentle adventures which they enjoyed. Billy Moon's childhood and adolescence were unhappy and cruel if judged by today's standards but modern audiences know that he was a product of his time and his class. He was achingly unhappy and hated his fame but, like the stories of the Bear with Very Little Brain and his friends in the 100 Acre Wood, it all comes right in the end. This is a wonderful film which is well worth watching.