Details

Last Updated on Saturday, 21 April 2018 18:27

USA 2017
Opening April 19, 2018


Directed by: Greta Gerwig
Writing credits: Greta Gerwig
Principal actors: Saoirse Ronan, Laurie Metcalf, Tracy Letts, Lucas Hedges, Beanie Feldstein, Timothée Chalamet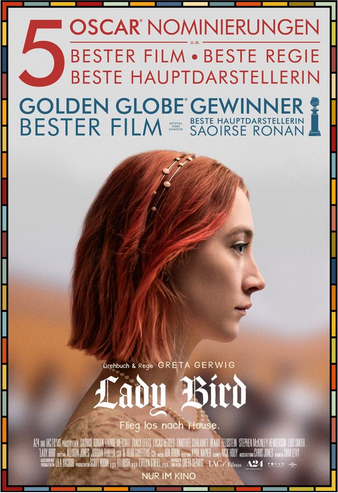 Christine "Lady Bird" McPherson (Ronan) is a high school senior at a Catholic school in Sacramento, California in 2002. She's busy navigating friendships, falling in love, rehearsing for the school play, and applying to college. She's also driving her mother Marion (Metcalf) crazy with her new self-given nickname and her desire to go to school on the East Coast. Lady Bird wants to go someplace more "cultured" than Sacramento, a place she claims to hate, but her mother is terrified of what college will cost – and ultimately of losing her daughter – and their sparing relationship forms the backbone of this fantastic movie. Metcalf perfectly conveys the tension that results from worrying about and loving a child and being unable to easily show that love. First-time writer/director Greta Gerwig uses the constant butting of heads between Marion and Lady Bird to portray one of the most realistic relationships between a mother and teenage daughter I've seen onscreen.

Lady Bird is, quite frankly, as close to perfect as a movie can get, from its mesmerizing lead actress to Gerwig's hilarious script, which captures the absurd experience of being a teenager and figuring out who you think you are. Lady Bird falls for two boys in the course of the movie. Her relationships with Danny (Lucas Hedges), her first boyfriend, and Kyle (Chalamet) are incredibly insightful about the process of self-awareness and self-cultivation that takes place for teenagers: Danny is going through his own process of exploration and Kyle seems edgy, plays in a band, reads Howard Zinn's Alternative History of America and claims to not partake in the economy, but drives a fancy car and turns out to be exactly what he claims he isn't. (Chalamet, by the way, is an actor to watch – his performances in this film and his knockout lead role in Call Me by Your Name, 2017, are signs of a star in the making.)

Another important relationship in Lady Bird's life is with her best friend Julie (Feldstein), who is great at math and being invisible and joins Lady Bird in the school production of Stephen Sondheim's Merrily We Roll Along, a musical about grownups looking back at the friendships and events of their early years. Gerwig's use of Merrily is inspired – another layer of reflection on the importance of how the years at the cusp of adulthood shape the people we become. It's one more element that contributes to this movie being such a wonderfully bittersweet and adroit portrayal of 'coming of age' in America. (Diana P.S.) 



1/2
 Greta Gerwig's writer-director debut film sticks with proven formulas from collaboration projects with Noah Baumbach (Frances Ha, 2012, Mistress America, 2015). The female protagonist (Ronan) is a high school senior aspiring to be noticed. Christine's best friend Julie (Feldstein) is equally ordinary, plus physically awkward; Christine squabbles with mom (Metcalf)and nurtures dad's allegiances (Hittman). Following Julie's lead, they try out for the school's theatrical production where Christine sets sights on Danny (Hedges). Invited to spend a major U.S. holiday with his wealthy family, mom helps Christine shop for a dress. When that relationship fizzles, she sets sights on Kyle (Chalamet),and dumps Julie for popular Jenna (Odeya Rush). Additionally, Christine's university applications fixate on east coast institutions stemming from her wanting complete freedom, and a conviction she will be happy there.

After a laugh-out-loud start, the narrative slows then bungles along. Gerwig's central character is surprisingly unlikable. Exposed, Christine's self-interest is: ignoring well-meaning advice from foster "siblings;" blasé about the family's financial situation; insensitivity toward best friend's feelings, and indifference to interactions with teachers, friends, etc. The Catholic school setting adds tension with its stricter regimes and dress codes. Why Gerwig unnecessarily stretched the ending is perplexing. On the other hand, the cast, production values, and music are sound; Gerwig filmed primarily in hometown Sacramento, California.

Pigeonholing teens with a personality like Christine's as being the norm is rather cheeky; American teenagers, joined by adherents worldwide, have taken a lead in current anti-gun demonstrations. Moreover, nothing warranted the Oscar® nominations. Some said Lady Bird was an olive branch to women filmmakers. Why then was Wonder Woman, 2017 with its female director and predominantly female cast ignored? 94 minutes.