Details

Last Updated on Tuesday, 01 May 2018 18:26

1/2
USA 2018
Opening April 26, 2018     

Directed by: Anthony Russo, Joe Russo                              
Writing credits: Christopher Markus, Stephen McFeely, Stan Lee, Jack Kirby, Jim Starlin, George Pérez, Ron Lim, Steve Ditko, Joe Simon
Principal actors: Robert Downey Jr., Chris Evans, Scarlett Johansson, Chris Hemsworth, Josh Brolin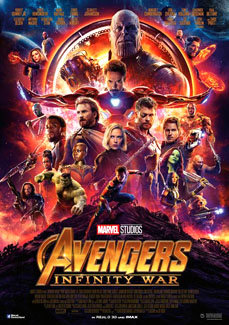 In the vast Marvel Universe, a variety of factions have been defending/overthrowing different planets since time immortal. At this particular point in the universe's evolvement, Titan's despot Thanos (Josh Brolin, motion capture) is intent on adding to his collection of Infinity Stones. As he and Black Order henchmen (Terry Notary, Tom Vaughan-Lawlor, Carrie Coon, Michael James Shaw) careen about the universe, the Avengers and Guardians of the Galaxy pull together: protect and destroy, or be destroyed.

The action picks up two years after Captain America: Civil War, when Thor (Chris Hemsworth) and Loki (Tom Hiddleston) are paid an unsolicited visit, and thence Black Order minions advance to interrupt peaceful lives on Earth. Dr. Strange (Benedict Cumberbatch) and Wong (Benedict Wong) intrude on Tony Stark / Iron Man (Robert Downey Jr.) and fiancé (Gwyneth Paltrow) to assist; Peter Parker / Spider-Man (Tom Holland) decides to tag along. Faithfully following Thanos' orders to acquire all stones for his gauntlet, the net widens and ricochets intergalactically. Thanos' nihilistic fixation is to be the universe's savior, i.e. impose his will, and decide every planet's future. Only synergy can save the universe: Steve Rogers' (Chris Evans) faction, et al. join forces. Whether it is enough depends on whichever current reality.

Expanding storylines in Marvel's The Avengers, 2012 and Avengers: Age of Ultron, 2015, Anthony and Joe Russo direct Marvel Cinematic Universe's (MCU) nineteenth addition; Christopher Markus and Stephen McFeely's screenplay is based on a Marvel Comics 1991 series, The Infinity Gauntlet by Jim Starlin from concepts he developed in the 1970s. Worked into the narrative are backstories for each superhero. Additionally, the directing/writing teams are signed to steer the sequel that will share elements while maintaining both film's distinctiveness. The star-studded ensemble reunites actors from MCU earlier films, and includes Mark Ruffalo, Chadwick Boseman, Karen Gillan, Chris Pratt, Zoe Saldana, Pom Klementieff, Dave Bautista, Paul Bettany, Elizabeth Olsen, William Hurt, Don Cheadle, Sebastian Stan, Peter Dinklage, and many more. So many, Stan Lee's cameo is lost in the shuffle.

Alan Silvestri's music keeps pace, whether intergalactic action or a slow-motion sequence toward the end. Cinematography (Trent Opaloch), editing (Jeffrey Ford, Matthew Schmidt – a tick too long with sound that overwhelms  at times), production design (Charles Wood) and costume design (Judianna Makovsky) combine with fantastic visual effects from worldwide studios for a spellbinding effect. Climb aboard the Infinity spacecraft for an impressive, enthralling adventure. 149 minutes (Marinell H.)

 1/2
And so the Marvel Cinematic Universe barrels onward and, much like its resident Hulk (who I recall from my childhood as being rather ponderous), it gets bigger and faster as it goes. Not to mention broader in scope. This is the 19th installment in the franchise and the sphere of action has expanded from the tidy confines of Your Friendly Neighborhood Spiderman to defenders of the nation to the world to the universe and now into infinity – and there will definitely be a beyond.

The cast has expanded as well, currently to biblical proportions. And like a biblical epic, you should have at least a passing familiarity with the story and characters before you go. No introductions are made, and knowledge of the backstory is taken for granted. That's okay. Any attempt to fill in the newbies would only be clunky and time-consuming. The film is already on the very long side. Not that it drags: rather, the action is so fast, so hard, so loud, and it goes on for so long, that a certain numbness may set in for all but the most zealous action junkies. Indeed, the high speed of the mayhem can be a bit confusing – objects flying, exploding, bodies slamming into vertical surfaces and flopping to the ground, amazingly getting right back up again – until you realize that if anyone important gets hurt, everything will momentarily slow down and dwell on that just long enough for you to feel it. In this way, the violence, while still mostly cartoonish, may be a little too richly depicted for some, especially some kids.

It's one of the most expensive films ever made, and it looks it. Spectacular CGI. Good performances from actors who have grown into these roles, and a decent script, plus a smattering of humanizing pathos, which is especially effective with the lead villain. Just make sure you sit through the credits, because there's more. There will always be more. 149 minutes.