Details

Last Updated on Sunday, 03 March 2019 11:08

1/2    |   

1/2
USA 2018
Opening March 28, 2019

Directed by: David Lowery             
Writing credits: David Lowery, David Grann
Principal actors: Robert Redford, Casey Affleck, Sissy Spacek, Danny Glover, Tom Waits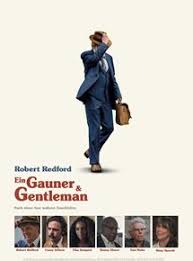 Forrest Tucker was rather infamous in his day, because of two lifelong passions: breaking out of cages, and robbing banks. With some literary license, David Lowery bases his screenplay on David Grann's same titled 2003 New Yorker article; Lowery also directs.

Forrest (Robert Redford) and cohorts (Danny Glover, Tom Waits) are riding high after a string of heists cutting a swath from Texas to Missouri. En route, he meets a widow whose relaxed smile and realistic mindset 'Bob' finds congenial; he starts keeping company with Jewel (Sissy Spacek). Concurrently, Detective John Hunt's (Casey Affleck) job enthusiasm is waning, or so he tells his wife (Tika Sumpter). Until that is, John's experience during a routine errand with his tykes (Ari Elizabeth Johnson, Teagan Johnson) when Forrest pays a visit. Henceforth, may the best man win.

Tucker's story is incredible, since his gall was extraordinary. Redford's performance in his last film is the essence of what audiences have found alluring for more than half a century; those twinkling eyes, and that open smile are uniquely special. Redford and Spacek's onscreen chemistry enliven their scenes that Affleck's dry, measured delivery accents. The design/art direction/set decoration teams beautifully recreate signature products, and features associated with 1981. Joe Anderson's easygoing cinematography matches activities unfolding onscreen; Lisa Zeno Churgin edits concurrent timelines, slipping in clips from past Redford films. Daniel Hart's touching music is accompanied by lively then-contemporary hits.

The Old Man & the Gun revel in Redford's charismatic sunny charm, alongside tugging at audiences' heartstrings as Tucker careens cross-country having the time of his life, besides audaciously taunting authorities. Rest assured, this tongue-in-cheek caper is timeless, warmhearted and good-natured fun for all. 93 minutes (Marinell H.)


Another Opinion by Shelly S.

1/2
A handsome gentleman dressed in a stunning blue suit and hat (Robert Redford) enters the bank with a charismatic smile and with a blink of an eye he turns casually, walks out to his car and drives off. It just takes moments before the entire bank staff realizes that they have just been robbed. During his escape he decides to aid a woman (Sissy Spacek) with a broken down truck which has the marks of becoming a long term relationship. During one of his heists he crosses the path of detective John Hurt (Casey Affleck) who is bound and determined to catch this crafty charismatic gentleman by the name of Forrest Silva "Woody" Tucker. The film covers the time span in the 1981s where Tucker accompanied by two partners John Waller (Tom Watts) and Teddy Green (Danny Glover) are baptized with the name of The Over the Hill gang (not to be confused with the Over the Hill Gang film, 1969) while they claim to fame robbing banks from Oklahoma to California.

It's no surprise that Robert Redford slips perfectly into the role of Woody Tucker with having the past experience of playing a criminal in the films such as The Sting and Butch Cassidy and the Sundance Kid. Not only does he charm women but he charms the bank's staff while stuffing the bags full of money. This true story touches on his criminal history starting at age 15, and that he had 18 successful prison breaks. The most famous escape was done in in a handmade painted boat with the name Rub a Dub Ducks embellished on the side from San Quentin. The film is slow paced along with an understated music score that makes you slowly sink into the atmosphere of this old fashion styled film. It is a film that an older generation viewer will appreciate but at the same time will drive the younger viewer crazy due to lack of action, energy and stunts.

The film is philosophical since it is so slow paced and we are taking in by his wisdom on how to live life. It seems strange to accept views from a professional obsessive-compulsive convict who has an addiction to bank robbing. He is a man who forgets those who loved him but just moves on to the next job without remorse. The acting is outstanding in this film and the film is a nice exit for Robert Redford if indeed this is his last film; but I am concerned as to what value this film really has especially in these dark political times. He is portrayed as a good man because people liked him. But how would you really feel if that was your money that he took as he smiles and goes running out the door?