Details

Last Updated on Saturday, 30 March 2019 10:50

|

Germany 2019
Opening March 28, 2019

Directed by: Cordula Kablitz-Post
Writing credits: Cordula Kablitz-Post
Principal actors: Documentary with Campino, Kuddel, Breiti, Andi, Vom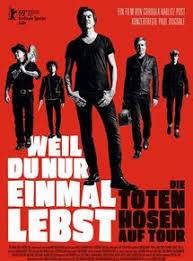 Die Toten Hosen is a punk rock band from Düsseldorf which first performed in 1982. Members are Campino (singer), Kuddel and Breiti (guitarists), Andi (bass guitarist) and Vom (drummer). All are German except Vom who joined from England in 1992 due to the death of the original drummer Wölli. Director Kablitz-Post accompanied the group on tour for seven months, collecting 180 hours of film. After just two concerts Cambino suffered acute hearing loss, which set them back for five weeks and performances were cancelled. In Germany they performed in Berlin, Chemnitz, Stuttgart, Gräfenhainichen, and Düsseldorf. They go to Lucerne, Switzerland, and even to Buenos Aires, Argentina. It's too bad there is no scene of them performing in Hamburg. We are treated to 21 songs and sit with them in their bus as they go on to the next city. All of their performances, even in large stadiums, seem to be sold out. The enthusiastic fans are interesting in that there is a mix of 50-60-year olds who were there from the beginning 36 years ago, as well as the next generation of 20-30-year-olds, and even some grandchildren. During the live performance the band members share their liberal political opinions, such as accepting immigrants, with the huge audiences. They are definitely anti far-right and anti-racism; they extract neo-Nazis and skinheads who cause trouble at performances. They believe that other musical groups with this kind of publicity, should also take the opportunity to stand up for their political beliefs. They are loyal to their long-term supporting team of producers, tour organizers, catering, security, etc.

Die Toten Hosen (which my American colleague tells me are called "Dead Pants" in the USA) came to the 2019 Berlinale, in the section Berlinale Special, where their film premiered.

This is an interesting film for anyone interested in the current music world. I'll admit that, although I've been around as long as they have, I did not recognize any of the music, except "You'll Never Walk alone," which is not their original song All others are their own original creations, and definitely worth experiencing. (Becky T.)

Another Opinion by Birgit Schrumpf

As long ago as 1982 the five-man punk band Die Toten Hosen was founded in Düsseldorf Germany. Since then over 19 million records were sold and they are still going strong. Their fans have grown older with them and their (now grown-up) children have become fans as well.

The director Cordula Kablitz-Post and her camera team joined the band in 2018 on their huge tour through open-air venues in Germany, Switzerland and even Argentina during which more than one Million of enthusiastic visitors were counted. The intensive, lively and loud music performance alternates with personal interviews not only of the members of the band but also giving a voice to technicians, lighting personnel and producer. We get a look behind the scene watching the various hardworking staff members assembling the set on stage and listening to their comments. To set up the electronic equipment looks quite complicated as well and the sound tests take their time too. The concert footage was expertly directed by the experienced Paul Dugdale.

Campino, head of the band and lead singer/composer, comes through as a strong personality with changing moods but a serious and responsible look at life – and an engaging big smile. There is a good and honest comradeship amongst the band members of four Germans and the English drummer. Campino talks openly about the changes during their years of performing together and how getting older affects not only their work but life in general. He has a strong stand on the political scene and encourages the audience to raise their voice against racism and hate. Breiti, one band member, posted on Twitter "Together with our friends from @ProAsyl more than 40.000 signatures were collected during the 37 concerts and online for the campaign 'Wir geben keine Ruhe – Gemeinsam gegen Rassismus' (We won't be quiet – Stand together against racism). In recent times their concerts were regularly disturbed by hooligans. As a result, they are spending more money on security guards to sort out the unwanted troublemakers so that their fans can enjoy an inspiring and invigorating evening.

But Die Toten Hosen also played in small, intimate clubs for old-times' sake and the exchange of sentimental memories. Their visit to Argentina is an unexpected highlight. They were warmly welcomed by their long-standing fan community many miles from home. No hooligans in sight!

Even if you are not a punk fan, this documentary is a joy to watch. The comments and general atmosphere backstage during a concert tour is intimate, hectic, varied and interesting.