Details

Last Updated on Saturday, 30 November 2019 18:40

Germany 2019
Opening December 25, 2019

Directed by: Mimi Maynard, Regina Welker
Writing credits: Martin Behnke, Andrea Deppert
Principal actors: Animation voiced by Ashley Bornancin, Danny Fehsenfeld, Leslie L. Miller, Byron Marc Newsome, Eric Saleh, Gunnar Sizemore.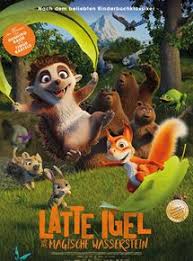 Latte is a little porcupine living in the woods with his friends: a rabbit, a raven, a squirrel, beavers, a toad, a lynx and more. The rabbit is the head of the group and must call an important meeting to discuss a mutual problem: there is no more water, except for just a small jar full, or even less: a small snail shell full. Something must be done. The problem lies in the fact that their magic water stone has been stolen by the bears and taken away. It must be retrieved, and reestablished in its designated home. But how? Latte has no family, so independently makes her way to search alone. Soon she is accompanied by her squirrel friend and they take off down the road to the land of the bears. Naturally, there are adventures along the way. Latte even befriends another porcupine, whom she thinks might be her father. The bears, led by Prince Amaroo, are living in wet luxury, even performing a water ballet for fun. They are proud of having stolen the magic water stone to improve their own lives. Latte plans to bring the stone back to its original resting place, but both she and the bears have not calculated the intentions of the wolves.
This is a fun, fast-moving film for all ages, with cheery music and bright colors to take us along on a road movie. Each animal is a character, quite interesting in its own personality. It is based on a book of the same title, written in 1958 by Finnish author Sebastian Lyeck, now age 90 (born 1929). He received a German prize for this work in 1959 and, since then, has written sequels. So, now already a third generation can enjoy the books as well as the film. Interestingly, Latte is a boy in the book and a girl in the film. (Becky T.)