USA 2013
Starts December 19, 2013

Directed by: Jim Jarmusch             
Writing credits: Jim Jarmusch         
Cast: Tom Hiddleston, Tilda Swinton, Anton Yelchin, Jeffrey Wright, John Hurt, Mia Wasikowska, Slimane Dazi, Carter Logan
Length: 123 minutes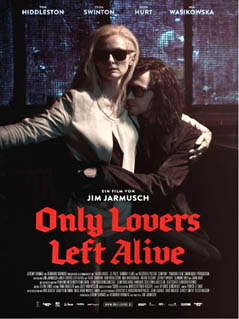 Writer/director Jim Jarmusch keeps the storyline simple: two Vampires' centuries long love is threatened. Different by nature and living on different continents poses challenges, but the opening parallel shots establish they are soul mates. Contrary to Jarmusch's existential The Limits of Control (2009), the lucid treatment here opens a whole new perspective on the vampire persona.

Self-obsessed Adam's (Hiddleston) "wilderness" is Detroit, Michigan, USA, whereas "ruthless" survivor Eve's (Swinton) at home in Tangier, Morocco, Africa. Time: present-future. With sources so contaminated both procure pure blood from hospitals: Adam as Dr. Faust from Dr. Watson (Wright), and Eve through dear friend Christopher Marlowe (Hurt). A musician/composer extraordinaire, after centuries of anonymity Adam is despondent, although zombie Ian (Yelchin) continuously supplies him with vintage instruments, and whatnot. Eve hates traveling, but recognizing Adam's quandary flies to Detroit via Paris. Their rejuvenating reunion becomes discombobulated when Eve's younger sister—blood sister—Ava (a compelling Wasikowska) shows up. Ava's affinity for discord has not abated since their last get-together 87 years earlier, and her appetite is unquenchable. The resultant push comes to shove: "We really don't have a choice, do we".

The film, with the gracefulness of a vinyl record's rotation, has the Jarmusch cadence of sensual pleasure. Sumptuous visual detailing coalesces with leitmotifs (Jozef van Wissem's original music) that transport us between continents, encapsulated through Yorick Le Saux's cinematography. Pet thespians Swinton and Hurt's measured performances add depth that Hiddleston easily matches. Intelligent dialogues comprise visual and spoken references to historic luminaries and issues: Shelly, Byron and Shakespeare—that "philistine zombie", Galileo, Darwin and Einstein, musicians, nature, ecology, political sideswipes, and delectably humorous zingers. Culminating with a fitting finale, when we glimpse Adam and Eve anticipating Eden: "Excusez-moi…" (Marinell H.)

 
Second Opinion by Jenny M.



Despite being besotted with each other, married couple Adam and Eve are living in different countries. Adam has fashioned a nest for himself in a dilapidated Victorian house in present-day Detroit. Eve lives in the ancient and exotic town of Tangier. It's never made clear why the couple lives apart, but it makes for a marvelous visual contrast between dark, derelict, decrepit Detroit and sunny, shabby Tangier.

Each is dependent on others. Eve's friend is Kit (Hurt) who has a fascinating secret, as indeed do Eve and Adam. Adam is a reclusive musician whose friend and fan (Yelchin) obligingly finds vintage guitars for him. Quite where Adam acquires the money for them is also never made clear.

Fearing that Adam is falling into a depression forces Eve to leave her happy life with Kit behind and she takes a night flight to be with her husband. Once there she chivvies Adam into touring the city in the old car which he loves. Together they explore the former grandeur of the deserted buildings which once fuelled work and wealth for America's car industry and the employees who toiled in it.

Their contentment is shattered when Eve's sister Ava (Wasikowska) invites herself to stay. Neither Eve nor Adam is happy to see her and they predict that this visit, like her last one a number of year earlier, will end in tears. They are forced to send her back to Los Angeles or Zombie Central, as Adam describes it when the inevitable occurs. The best thing to do is to leave Detroit behind and fly together to Tangier to help them get over Ana's nasty little incident. When they arrive, they hear the sad news that Kit is failing. Whatever will they do? Indeed, they have no choice.

Tilde Swinton and Tom Hulleston are perfection and seem born to play their parts. Their lines are well written and witty though spoilt by the (mostly) unnecessary swearing. The setting is fascinating to watch as the plot slowly—sometimes too slowly—unfolds.

Mr. Jarmusch has taken an old movie genre, dusted it down and given it a light-hearted but sophisticated touch for today's audience. His movie, with its equally clever soundtrack, is a feast for the eyes and ears.