Details

Last Updated on Tuesday, 14 July 2020 12:47

Germany | USA 2019
Opening January 30, 2020

Directed by: Terrence Malick
Writing credits: Terrence Malick
Principal actors: August Diehl, Valerie Pachner, Adrian Scarborough, Maria Simon, Richard Madden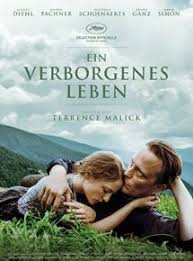 "What's this war in the heart of nature? Why does nature vie with itself"? Writer-director Terrence Malick's A Thin Red Line (1998) opening lines are the fundamental premise of A Hidden Life, and his return to structured narrative-driven storytelling following experimental dramas (Knight of Cups, 2015 and Song to Song, 2017.) Both are World War II period films, and reflective studies behind the reasoning for, and meaninglessness of, warfare and its effects on the land, citizens, and the Almighty. They diverge in location—the Guadalcanal Campaign, Pacific Theater, late 1942, and Nazi Austria, Continental Europe, 1939—and point of view: a young absconding U.S. Army Private caught during an ongoing campaign, and a young conscientious objector and family living high in the Upper Austria Alps. While A Thin Red Line is stunning, based on James Jones' same-titled book, A Hidden Life is contemplative, based on facts concerning Franz Jägerstätter.
"You looked at me and I knew we lived above the clouds." So begins Franziska (Valerie Pachner) and Franz (August Diehl) Jägerstätter's tale of an idyllic life in a little village and close community structured around the peasant farmers helping each other throughout the year. Seasons pass, their family grows, as does their workload; Resie (Maria Simon) moves in to help her sister, as his mother (Karin Neuhäuser) does, a family harmoniously embraced by sunny natural beauty, and love. A sky precipitously darkens, thunder boomerangs amongst the mountains and ominous music are harbingers of war: as Franz quietly, steadfastly continues to farm instead of fight the proliferation of Nazism, and prejudicial rot infiltrate St. Rageland's 500 residents. Nonetheless, the gentle farmer seals his fate when boldly refusing to pledge an oath of allegiance to Hitler.
Of the European cast consummate performances, Pachner's demonstratively emotive portrayal speaks volumes, with swansong performances by Michael Nyqvist (2017†) and Bruno Ganz (2019†). Shot in eight weeks, Production Design's Sebastian T. Krawinkel, and Art Direction's Steve Summersgill reveal using natural light, and locations assiduously chosen prevailed during filming: for authenticity, St. Radegund locals where events happened were used, including the Jägerstätter home/bedroom; for texture and tone, from South Tyrol, Italy to Zittau and Berlin, Germany; for the courtroom scene, the infamous Kammergericht building in Berlin-Schöneberg was used. Jörg Widmer's illustrative cinematography is a minute, breathtaking plethora of details – daily lifestyles externally, and peoples assorted internal bearings that intrinsically connect with eight times Oscar® nominee James Newton Howard's music, e.g., a solo violin throughout symbolizes Fani and Franz's enduring love.
Editor Terrence Malick's almost three years work is at times circuitous, and lengthy at 174 minutes; archival footage include Hitler and entourage at Berchtesgaden, Hitler's mountain retreat and birthplace that is in the same province as St. Radegund. The simple wellspring and perpetuity of two individuals' love, adds spiritualism to A Hidden Life's powerful, poignant narrative. Psychologically probing, its historical details challenge audiences to reflect on its graphic account. (Marinell H.)