Details

Last Updated on Wednesday, 09 June 2021 12:28

1/2
USA 2019
Opening June 24, 2021
Directed by: Alice Winocour
Writing credits: Alice Winocour, Jean-Stéphane Bron
Principal actors: Eva Green, Zélie Boulant, Matt Dillon, Aleksey Fateev, Sandra Hüller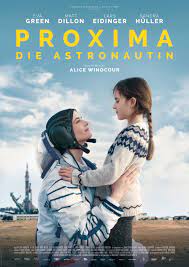 The time-eternal conflict in Proxima – Die Astronautin's narrative—women entering a male dominated profession—is particularly absorbing considering the behind-the-scenes drama and excitement as astronauts prepare for a space mission. Not only the stringent physical preparation and training, but also the tricky emotional maneuvering as astronauts leave families, particularly children, and Mother Earth far behind. French director Alice Winocour and Jean-Stéphane Bron's screenplay draws attention to the disparities when women compete.
Eva Green brilliantly portrays a woman caught in the middle: Sarah, training in Cologne, Germany, is chosen as a last-minute replacement for an imminent yearlong venture aboard the International Space Station. Sarah's lifelong goal. A single mother, she and Stella are close, albeit since her parent's separation the 8-year-old's clinginess has been disconcerting, suffocating. Outstanding is young Zélie Boulant as the petulant, lonely yet basically loving child, and Lars Eidinger as her father; Sarah's mission forces them together. The European astronauts share camaraderie, whereas the American captain's, Matt Dillon as Matt Shannon, sexist remarks and patronizing attitude are annoying. Aleksey Fateev's moderate attitude as Cosmonaut Anton Ocheivsky balances Shannon's machismo. During the grueling training, Sarah earns coequals' respect and understanding; they admire her honesty in expressing emotions, but male ego inhibits any reciprocation.
Production values are strong: Ryuichi Sakamoto's music, Julien Lacheray's editing, and Georges Lechaptois' cinematography nimbly moves in/out of simulators, as well as amplifying star bedecked skies. Production Designer Florian Sanson and Art Director Anja Fromm (Ger) add to the atmospheric impact. Equally impressive are scenes shot at European Space Agency facilities, including the Baikonur Cosmodrome spaceport in southern Kazakhstan leased to Russia.
The message is clear: when women compete more is expected and bars are set higher, or, insultingly lower. Females are expected to carry a heavier load, while wading through levels of guilt. Unnecessary is the muddling section between Sarah and Stella near the end (re the quarantine). Still, Proxima's central focus, strong cast, and fascinating authenticity/locations more than compensate. Stay for end credits when numerous female astronauts with children are shown. 107 minutes (Marinell H.)