Details

Last Updated on Wednesday, 30 June 2021 19:49

|

USA | Canada | Hong Kong | Luxembourg 2021
Opening June 17, 2021

Directed by: Doug Liman
Writing credits: Patrick Ness, Christopher Ford
Principal actors: Daisy Ridley, Tom Holland, Mads Mikkelsen, Demián Bichir, Cynthia Erivo, Nick Jonas, David Oyelowo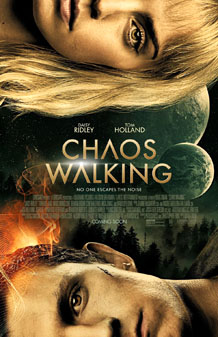 The first book of Patrick Ness' eponymous sci-fi trilogy, The Knife of Never Letting Go (2008), is the basis of the film's screenplay he co-wrote with Christopher Ford. Director Doug Liman (American Made, 2017, Fair Game, 2010) skillfully introduces the alternative dystopian planet, New World, colonists. Now 2257, following an acrimonious war with the indigenous species called Spackle, the first wave of settlers' challenges have not abated.

Ever since the civil war, when women vanished along with half the men, Prentisstown's noise level is mind-boggling. So that Todd Hewitt (Tom Holland) continually practices blocking his Noise—a condition whereby everyone can hear/see everyone else's thoughts, whereas fellow denizens feed off one another's Noise, creating even more noise. When Todd and Manchee, a little mutt and constant companion, encounter Preacher (David Oyelowo) and Davy Prentiss (Nick Jonas), the mayor's son, in the forest Preacher vitriolically asserts, "You are an orphan, unwanted and weak." Nevertheless, under Ben (Demián Bichir) and Cillian's (Kurt Sutter) care Todd thrives. While working in the field Todd spots, then chases a thief, stumbling upon a crashed space ship. He rushes to town; while debating whether to tell the Mayor (Mads Mikkelsen) who, by the way, is in unshakeable control of his Noise, Todd's Noise gives him away. With that news flash the cunning, dominating mayor and band of rapacious rascals set out; once at the site they sabotage the spaceship, while Todd meanwhile sees what must be a girl, with the result the men capture and take her to Prentisstown. At the mayor's home and with Davy in attendance, Viola's (Daisy Ridley) reservations increase, and given the chance, escapes. Coaxed on by the Mayor, the gang give unrelenting chase; barely escaping, Todd and Viola follow Ben's plan (to Farbranch), albeit into unknown, probably perilous territory. Nevertheless, its an inner power that will be their only hope, should they find it.

Liman's top-notch cast bring out their characters' personality through subtle body language and attitude shifts that Kate Hawley's costumes supplement; anchoring and boosting the dystopic ambience are layers of formidable special effects and CGI (computer generated imagery). Ben Seresin's impressive cinematography parries challenges from capturing fast-paced action to the finest facial flinch, plus the grander scale involved filming in Canada, Scotland, Iceland, and Georgia and New York, USA. That Doc Crotzer unfalteringly edits, and Marco Beltrami and Brandon Roberts score. Laced with metaphoric moral certainties and dilemmas, the film's premise offers a compelling concept: imagine the chaos if what you, me, anyone thinks is audible/visible to everyone around you. That is Chaos Walking. 109 minutes (Marinell H.)

Humans have colonized a distant planet called New World. Although this is the future, there is little progress. The houses are simple; transportation is by horse; clothing is old and second-hand. The original inhabitants, called Spackle, live on the fringes. Prentisstown is one settlement, where farming seems to be the main form of income, worked solely by men. They have been infected by The Noise which causes their thoughts to escape from their heads, open to public discussion, no secrets, no privacy, and always surrounded by light puffs of blue smoke.
Here we meet young Todd Hewitt (Tom Holland), and, although one should "not hide one's Noise," he attempts to subdue his thoughts by rethinking his name constantly and playing with his dog Manchee. He rightly fears that he is the last of his generation. No babies can be born; all women have been eliminated. Women, in their day, had an advantage over the men: their thoughts were secret, known only to themselves. Still, this power did not prevent their extinction. It's obvious that Todd is overwhelmed to see a girl, Viola (Daisy Ridley), for the first time. She is the single survivor of a rocket sent from a spaceship, which originated from Earth and has been on a 64-year journey. The rocket crashed near Prentisstown and, according to Viola, the spaceship with 4000 passengers is scheduled to land on this New World soon. Mayor David Prentiss (Mads Mikkelsen), accompanied by the town's evil black priest Aaron (David Oyelowo), leads a force of men to capture Viola; Todd tries to protect her, although it's difficult to hide with smoke clouds swirling over one's head. They flee to the next village of Farbranch, which is a bit more progressive with men, women, children – whole families – and a female mayor: Hildy (Cynthia Erivo).
Chaos Walking is based on books for young adults called the Chaos Walking Trilogy by Patrick Ness. The first book, The Knife of Never Letting Go, provides the storyline for this film and Mayor Prentiss often repeats, "I am the circle; the circle is me." The credits at the end of the film show an extremely long list of participants, dedicated to the success of the film, obvious in the excellent music and the settings. It follows the ideology of present times, e.g., women with power, as well as a multiracial cast, in spite of coming across as a 1950's Western. Although listed as science fiction, it will appeal to a general audience, perhaps even more than to science fiction fans. I saw the film in original English with German subtitles, where the "thoughts" were in italics, while the text was in regular print. This was helpful when sorting out the thoughts versus real commentary. Naturally, I enjoyed Chaos Walking, partly because it was my first film in a cinema after Covid-19. Who wouldn't enjoy it?