Details

Last Updated on Tuesday, 14 September 2021 16:43

USA 2021
Opening September 16, 2021
Directed by: Denis Villeneuve
Writing credits: Book by: Frank Herbert, Screenplay by: Jon Spaihts, Dennis Villeneuve, Eric Roth
Principal actors: Timothée Chalamet, Rebecca Ferguson, Oscar Isaac, Stellan Skarsgård,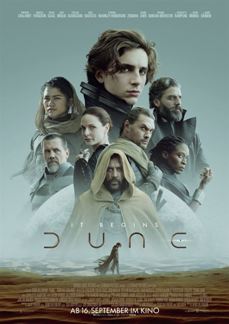 Director Denis Villeneuve's remake of Dune has given him a chance to create the next multi-million-dollar science fiction film-franchise. The similarities between Dune and Star Wars: The New Hope 1977 is quite striking. Many scenes such the young apprentice learning to fight from the master to living life on a rugged desert planet to the various spaceships flying around are to name just a few. The film has the underdog hero Paul Atreides who resembles the Jedi Knight Anakin Skywalker. We also see a contemporary economic conflict which leads to a galactic war. We, the viewer, can relate to this since we see the power struggle over the rights of rare raw resources. In our case, the resources are cobalt and lithium and in Dune it is the material called Mélange.
The story begins in the galaxy far far away on the aggressive desert planet Arrakis known as Dune where there exists one of the most valuable raw resources in the universe. This material Mélange, also called Spice, is harvested from the sands of the desert and has an intense psycho-topic effect. It has several uses including hallucinations for those with the Sight as well as for travelling faster than the speed of light for long distances. The Padishah Emperor whom we never see has appointed Duke Leto Atreides (Oscar Isaac) and his trusted advisors to take over the control of the spice production since the House Harkonnen abandoned it for unknown reasons. He reluctantly accepts this dangerous mission but decides to bring both his only son, Paul (Timothée Chalamet) and his Bene Gesserit concubine Lady Jessica (Rebecca Ferguson). Greed and corruption have the advantage here as the naïve royal family sets foot on a planet that they know nothing about. Since this film is only part one and feels incomplete, the many directions the film travels are surprising. The film's main focus is on the development of the character Paul who will eventually inherit the position of his father. His visions of the future and special abilities tell a different story with a different path. To everyone else, he is the one they have been waiting for. What that means we don't know but I am sure by the end of the series we will find out.
The film's strength lies in its cinematography which is wondrously, magically strong and has a backdrop of overwhelming music from Hans Zimmer. The film carries the melancholic tones which we have seen before in Blade Runner 2049 and takes us directly into another world with flowing exotic looking costumes and ancient scriptures. The atmosphere of the desert with its vast horizons contains a mystery beneath its sands. The film flows in the rhythm of these giant worms which travel underground and emerge from time to time. Since there are six original Dune books written by Frank Herbert and two more from other authors, I am sure we will see more, but just in case you want to venture further into the archives of previous attempts of the film Dune—there is an old cult film done by David Lynch which is a bit strange and messy. There is also Jodorowsky's Dune which is a 2013 American-French documentary directed by Frank Pavich which looks at an unfinished attempt by Chilean-French director Alejandro Jodorowsky done in the 1970s featuring famous bands, artists and super stars. As one can see this is just the tip of the iceberg for all those science fiction gurus who are craving more. One can easily go to the next comic-con and have a blast discussing the world of Dune while waiting for the next film to come to the screen. 156 minutes (Shelly S.)