Details

Last Updated on Tuesday, 17 May 2022 21:55

USA 2022
Opening May 4, 2022
Directed by: Sam Raimi
Writing credits: Michael Waldron, Stan Lee, Steve Ditko
Principal actors: Benedict Cumberbatch, Elizabeth Olsen, Benedict Wong, Xochitl Gomez, Rachel McAdams, Chiwetel Ejiofor, Michael Stuhlbarg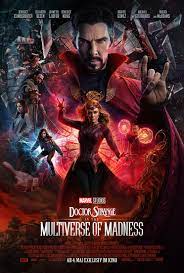 Marvel Cinematic Universe (MCU) has unleashed its eleventh installment of Phase Four with its twenty-eighth film, Doctor Strange in the Multiverse of Madness. The Marvel Comics figure Dr. Stephen Strange (Benedict Cumberbatch) leaps, and is thrown through multiverses chased by monsters, foes and… For some context, in the world of superhero films this is the sequel to the eponymous titled 2016 film, Avengers: Endgame (2019), WandaVision (2021 MCU television miniseries), Spider-Man: No Way Home (2021), and the 2021 television crossover series about Marvel's eponymous Loki.
Commotion outdoors interrupt Stephen and Christine's (Rachel McAdams) conversation, yet when he and America (Xochitl Gomez) meet what is familiar is what is forgotten. Until Wong (Benedict Wong) arrives, lends a hand fighting the monster, and when they learn the magnitude of America's talents together withdraw to Kamar-Taj, the Masters of the Mystic Arts headquarters. Pondering the "Kid's" perturbing claims, and realizing "it's not sorcery, it's witchcraft," Strange turns to the Avenger Wanda Maximoff/Scarlet Witch (Elizabeth Olsen) for help. Her slip of the tongue unleashes perilous repercussions that ricochet through distinctly unique multiverses with its enigmatic hint of a threat to humanity. What "is not fair" is everyone's trepidatious angst at finding alternate versions of themselves. "You opened a doorway between universes, and we don't know who or what will walk through it," the Sorcerer Supreme frankly reminds Strange.
Sam Raimi confidently directs with Michael Waldron's very comprehensible and formulated, tight, action-packed and detail focused screenplay and Kevin Feige producing (since 2007). Specifically striking is the years of character development and world building marvelously coalesce: Cinematic and televised Marvel characters, locations and dimensions, and singularities, e.g., dream walking, Darkhold, wonder corridor, et al. are utilized. The humor is wickedly black, as is the cast excellent with stellar performances from Cumberbatch and Olsen, plus introducing more characters, e.g., Rintrah's cameo.
Bob Murawski and Tia Nolan impressively edit cinematographer John Mathieson's spectacular footage into a staggered, unforgettable trek across cosmoses. Makeup (Samantha Ward, department head) and costume design (Graham Churchyard) is attention-grabbing; Donald McInnes created Cumberbatch's strange multiverse looks. The attention to details transcends the script to include production design (Charles Wood), sets (John Bush), art direction (Thomas Brown, supervisor) and the unfailingly superb countless Special and Visual Effects artists work.
This strangely mystical, mysterious, marveling world of Doctor Strange in the Multiverse of Madness promises a breathtaking sojourn that audiences can easily follow and you should not miss. 130 minutes (Marinell H.)