Starts September 11, 2008
by Birgit S.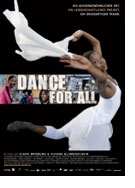 The project Dance for All was initiated by the famous "Prima Ballerina Assoluta" Phyllis Spira and her husband Philip Boyd, "principal dancer" of Cape Town City Ballet. They started teaching in the townships in a small classroom with 35 black children. After 14 years of hard work and dedication they had built up a professional company for their most promising students. Today about 1000 children and teenagers receive lessons not only in ballet but also in contemporary, musical, Spanish, and African dance.
Theo, a good-looking youth, was one of the first students to dance ballet. After five years in London he has returned home. Also Silumko is determined to earn his money as a professional dancer. When his mother died of Aids, it was Phyllis Spira who took him under her wings. Nqaba has reached one of his goals, being chosen to join a dance workshop in San Francisco. Impressed by the big wide world he becomes restless after his return, and the township gets too small for him. Zandile is an ambitious and talented girl. She wants to get famous quickly, making no secret of her wish to go overseas. The young student Vuyelwa Qaku calls herself "Miss Happy" preferring a Western name.
The filming team around directors Viviane Blumenschein and Elena Bromund followed the group of black youths through their daily routine, interviewing them and talking to their families, all living in Cape Town's biggest township Kyalitsha with a population of two million. Even though it is mainly a dance film concentrating on training lessons and highlighted by a grand and colourful performance on stage, it also gives an inside look of their private lives. Some very atmospheric images are caught by camera man Franz Lustig, like a line of cows in the misty morning light orderly crossing the pedestrian bridge spanning a busy highway to the airport.
This is a film for lovers of all forms of dance, giving an intimate look into a different culture. It is also a film for teenagers, showing young dancers rapping and giving an impromptu performance on the street. The continuous mixing of African rhythms with classical music is refreshing.