Starts September 11, 2008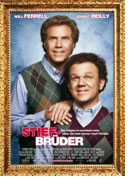 This over-the-top comedy is custom-made for actors Will Farrell and John C. Reilly. No surprise, considering that they, along with director Adam McKay, wrote the story and the screenplay. Brennan Huff's (Ferrell) mother marries Dale Doback's (Reilly) father and they all move into the Doback house to become the perfect patchwork family. The newly weds are surprised when the "children" resist. The boys are bachelors, unemployed, still living at home, and middle-aged going on 12. Their animosity is total and they stake out their claims by not sharing (the drum set), bragging ("My real name is Dragon; I'm Nighthawk"), and sulking. Soon, however, similarities appear, e.g., both sleep walk. It takes a third person to unite these two, namely Brennan's ridiculously successful brother Derek (Adam Scott) who visits with his wife and two perfect children. (Scott plays the role excellently, as if it were a Tom Cruise spoof.) They unite in their dislike of Derek and realize that they enjoy each other's company in the tree house, playing with gadgets, and sharing a room.  They stack up their beds double-decker style to "have extra space to do our activities." They are musical: Brennan sings like "Fergie + Jesus" and Dale takes to the drums. Double means trouble, however, and together they wreak the family boat, scuttling all plans for an extended honeymoon cruise. The parents, at the end of their tether, divorce (to the song of "Who Gets the Family Bible?"). Suddenly, Brennan and Dale see the seriousness of the situation, move out, get jobs and all ends happily ever after at the Catalina Wine Mixer.
I found the film terribly funny. Obviously, the actors have researched all the clichés of pre-teen behaviour and they carry it off very well in body language and facial expressions. To be fair I will mention that my male colleagues found, 30 minutes into the film, "everything repetitious and un-funny." I agree that if this had been immature women, I, too, would have been embarrassed and hiding under my seat. Some critics cringed at the just punishment meted out to a whole playground of small bullies. The profanity is extremely inventive in combinations of words which concern sex and bodily functions, making it inappropriate for young people. In the end I would recommend this film to female teachers and mothers of pre-teen boys who will nod and say, "That's exactly how it is." They'll also read Good Housekeeping Magazine with new eyes.