Starts September 11, 2008
by Becky T.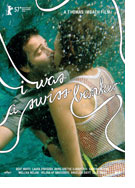 Roger (Beat Marti) is a Swiss banker:  young, good-looking, nice suit and tie, expensive car, Rolex, etc. He owes much of his success to his ability to smuggle clients' money over the Swiss border. To his surprise customs officials aren't always stupid.
They accost him and he flees to safety by jumping into Lake Constance. Here the film turns into kind of Swiss version of Enchanted. Suddenly, Roger can spend hours in an underwater fairy tale world, becoming virtually a male mermaid. A gorgeous witch named Heli gives him three chances to find a wife. If he fails, he must marry her. (Why not, at least he'd never be bored.) He meets and rejects Laura, who is a Heidi-type shepherdess with lots of sheep; Sahar, who is a Turkish girl from his home town; and Helena. That makes three and Heli has already donned the wedding dress in anticipation. But Helena doesn't count as a love interest, having been sent by her father to retrieve his money which accompanied Roger into the lake.
Like all fairy tales it ends happily-ever-after and Roger is older and wiser. The best part is the photography of beautiful Switzerland as well as the introductory and final graphics. This is light weight and fun but not mandatory. I saw it in Italian, English, French, Danish, Swedish, Turkish, Swiss-German, and Rhaeto-Romanic with German subtitles.