Starts September 25, 2008
by Nancy T.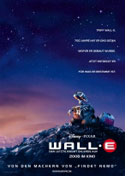 Robot Wall-E (Waste Allocation Load Lifter Earth-Class) somehow was left behind on Earth when it became uninhabitable and people abandoned it to live on a luxurious cruise ship in space. Wall-E is old technology. Alone for 700 years with only a cockroach for a companion, he compacts and stores the mess people left behind. In the evenings he watches the same old Hello Dolly tape, intrigued by the idea of touch. Then enters sleek, state-of-the-art robot Eve (Extraterrestrial Vegetation Evaluator) sent by the space cruise ship whose crew is anxious to find signs of life on Earth which could support man's return. The ensuing robot love story and adventures are told visually with no spoken dialogue, only by amazingly descriptive sounds created by four-time Oscar winner Ben Burtt. Only midway through the film, when people enter the picture is there dialogue - and it is not missed! As in other Pixar films such as Ratatouille and Finding Nemo, the animation is detailed and fine; what is unique are the wide shots of landscape, big wide views of the future. Multiple plots include the treatment of robots, a mutiny on the space cruise ship and the future of our planet, including a concept of how man will evolve in 700 years as they grow super-sedentary, not leading purposeful lives, but always waiting and always on holiday. Directed and co-written by Andrew Stanton, this is entertaining and thought-provoking.
Accompanying Wall-E is an extra Pixar treat: Presto an animated short by Doug Sweetland. Magician Presto, who hides his bag of tricks in the false bottom of his underpants drawer, has big trouble pulling the hungry rabbit Alec out of his hat during a major performance. Fine, fast and fun!