Starts September 4, 2008
by Birgit S.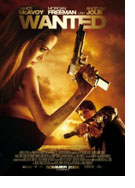 Making his American feature debut, Kazakhstan-born director Timur Bekmambetov (Day Watch, Night Watch) culled the basic story from Mark Millar and J.G. Jones' cult comic books.
25-year old accountant Wesley Gibson (James McAvoy - Atonement, Last King of Scotland) is listless, bored with his job, his girlfriend and with life in general. This apathetic youth, riddled with anxiety, is popping pills like others eat popcorn. At the local drug store the seductive Fox (Angelina Jolie – Mr & Mrs Smith) approaches him, casually announcing the death of his estranged father, claiming that he was the world's greatest assassin. When shooting breaks out, she rescues the panic-stricken Wesley by sweeping him into her blood-red sports car. A spectacular car chase follows with much shooting between Fox and the famous killer Cross (Thomas Kretschmann).   
Wesley, our nerd, wakes up in an old factory, surrounded by guards. Fox is there, tattoos all over her slender arms, introducing Sloan (Morgan Freeman). He is the mastermind of the 1,000 year-old Fraternity of Weavers, who are actually trained assassins carrying out a code hidden in the fibre of the Loom of Fate: "Kill one, save a thousand". Wesley has been chosen to follow in his father's footsteps, to avenge his death by becoming a super killer. Poor Wesley – sure enough, his life was boring, but this is a bit much for one day. But the experience has woken him up and a return to his old existence is impossible.  He becomes part of a brutal gang of assassins. 
And so the fantasy-crime-thriller takes its noisy course. Excellent camera work shows curving bullets flying in slow motion (speciality of the Fraternity), amazing stunts and inventive actions - until it gets repetitive and the tongue-in-cheek self-mockery is lost. The few amusing scenes are taken over by senseless killing with plenty of gore. It is like watching a video game with the rotation of bang-boom-bang and flying bodies. A chase on a high-speed train involves more violence and the plot takes a few twists towards the end.
You would not expect the Glasgow-born actor James McAvey, an alumnus of the Royal Scottish Academy of Music and Drama, in an action thriller. Well, why not another Scottish superhero - after Sean Connery as James Bond. McAvey is very convincing in starting off as the wimp and transforming into a strong-willed, muscled hero. Other well-known names on the set are Terence Stamp and Common (as the gunsmith).
If you don't take the plot too seriously and like watching adrenalin-pumping brutal actions in a superman fantasy-world with frightening references to reality, you might enjoy this film. Wanted is rated as an R-movie, requiring under 17s to be accompanied by an adult because of "Non-stop violence and a brief sex scene".