Starts January 15
by Birgit S.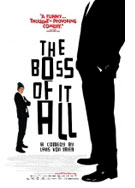 The director, Lars von Trier (Dancer in the Dark, Manderlay, Dogville) claims that the story of his film is just a playful exercise, "You may only see my reflection … this movie is not worth the reflection of a moment. This film is a comedy, therefore harmless…" That might well be so but it is a reflection of life in an IT-firm where the employees who work for love rather than money are united as a faithful team under an imaginary "boss of it all" residing in the US. The actual boss is Ravn (Peter Gantzler), pretending to be only their caring colleague, leaving all the unpleasant announcements and exploitation to the phantom boss. Ravn secretly wants to sell the firm and swindle his team out of its profit. The Icelandic investor Finnur (a wonderfully choleric Fridrik pór Fridriksson) wants personally to see the boss before signing the contract. As the "boss of it all" is only in Ravn's head, his solution is to hire Kristoffer (Jens Albinus), a jobless actor, to play the part for a few days. The fun starts when the employees see their "boss" for the first time. Poor Kristoffer doesn't know what has hit him, and his acting skills are more than challenged. Yes, it is all a bit strange and quirky but it also takes a weirdly realistic view at practiced office routine.

This movie makes fun of today's business world by looking at the scrupulous methods and hypocrisy that has become all too familiar to us. It is a comedy with some tragic - even if hilarious - undertones. At first the noticeable cuts, due to Lars von Trier's new method of using a random generator (Automavision) are a bit irritating but go with the idea of a playful experiment and underline the feeling of watching an absurd theatre play. His quote: "Why not be playful with art?"

This film has been shown at several film festivals, e.g., the 54th International Filmfestival San Sebastian, Filmfest Kopenhagen, Filmfest Lübeck 2007 and Filmfest München 2008.